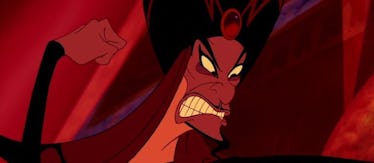 The Live-Action 'Aladdin' Found Its Jafar And He Is Not What We Were Expecting
Disney/YouTube
Break out that combination hookah and coffee maker! Disney's live action Aladdin movie is moving closer and closer to reality, and I am so excited. After casting its three hero leads — Aladdin, Jasmine, and the Genie — we're finally getting to see who will play the villain, Jafar.
Marwan Kenzari, who will also appear in the upcoming Murder on the Orient Express film, is in negotiations to play the evil sorcerer/vizier, according to The Hollywood Reporter. Kenzari, a Dutch-Tunisian actor, is…
….woah.
Ahem.
Hi there, Marwan. Please excuse the way my eyes went all heart-shaped for a second.
Kenzari, is, shall we say, a surprisingly attractive choice to play the thin-moustached creeper Jafar.
I mean, all the scenes where Jafar skeezily hits on Jasmine are going to have a slightly different feel if half the audience is silently cheering, "yesssss! Get it girl!"
Note, please, that this is not an argument against Kenzari. Please. By all means. Give us Hot Jafar. It's 2017. We deserve our disturbingly sexy homme fatale villain.
And I'm definitely not the only one who thinks so.
Agrabah is getting hot for more than one reason, folks.
It's also reassuring to see that Disney reportedly chose an actor of North African descent for the role.
Before the role was cast, British actor Tom Hardy was reputed to be in the running for the role. The live-action remake has been under fire about hiring actors of color, and specifically Middle Eastern actors, since it was reported that Disney was having "trouble" finding a cast.
Fans also called the studio out for casting its leads: while Mena Massoud, who was cast as Aladdin, was born in Egypt, Naomi Scott (Jasmine) is half-Indian, and Will Smith (the Genie) is, of course, from West Philadelphia.
Also, has Rajah been replaced?
Rounding out the cast is former SNL star Nasim Pedrad, who The Hollywood Reporter announces will be playing a new role created specifically for the live action film.
Pedrad has reportedly been cast as Mara, a comedic role described as Jasmine's handmaiden and friend — which sounds an awful lot like a humanized version of Rajah the tiger. What, Disney, you didn't have the budget to spring for the tiger trainer?
Well, it's fine, I suppose. We can make do. Hot Jafar has earned you a lot of credit.