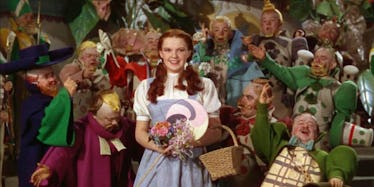 Judy Garland's Ex Says 'Wizard Of Oz' Munchkins Sexually Assaulted Her On Set
Metro-Goldwyn-Mayer
In the classic "Wizard of Oz," Judy Garland became a staple in American cinema forever when she played the young Dorothy who had to follow the yellow brick home to get back to her family in Kansas with her beloved dog and three new friends.
In reality, Judy Garland was 16 years old, already addicted to barbiturates and amphetamines provided by the studio and pressured to lose weight to look younger for the role.
And now, if her ex-husband's posthumous memoir "Judi and I: My Life with Judy Garland" is to be believed, Garland was allegedly also molested repeatedly by some of the actors who portrayed the Munchkins on set.
Sidney Luft, a producer and business manager who was married to Garland from 1952-1965, said,
They would make Judy's life miserable on set by putting their hands under her dress… The men were 40 or more years old.
Luft, who died in 2005, said that they thought they "could get away with anything because they were so small."
Over the years, the wholesome "Wizard of Oz," dedicated to the idea there's "no place like home," has been a source of rumors.
Those rumors include the actors' behavior.
Julie Lugo Cerra's father worked near the studio in Culver City, CA during the time of filming. She told NPR the Munchkins had "a really good time" because it was the first time they interacted with other little people.
Some of those good times include rumors of orgies, gambling and prostitution.
Cerra denied the darker rumors and simply said she was "sure that they had a very good time, and I'm sure that most of them remembered it for the rest of their lives."
Meanwhile, all Garland, who passed away in 1969, had to say about the actors in a 1967 interview was,
They were little drunks… They got smashed every night, and they picked them up in butterfly nets.
The Munchkin actors denied these claims. They were paid little for a lot of hard work. One of the actors, Margaret Pellegrini, told The Independent in 2009,
There were a lot of them who liked to go out and have a few drinks, but nothing got out of hand. Everyone was having a good time and enjoying themselves. There was no rowdiness or anything like that, and those stories are very upsetting.
At 97 years old, Jerry Maren is the last surviving Munchkin and the last surviving member of the entire cast. He refuted the claims the cast drank, while questioning their pay. He asked,
How could you get drunk on $50 a week? There were a couple of kids from Germany who liked to drink beer. They drank beer morning, noon and night, and got in a little trouble. They wanted to meet the girls, but they were the only ones.
Garland and Luft were married for 13 years and had two children Lorna and Joey before they divorced in 1965. Garland said he was a drunk and abusive.
During their marriage, Garland tried to commit suicide after suffering postnatal depression, including cutting her own throat.
Luft wrote,
She quickly ordered a three-string pearl choker from Saks and she never took it off. She wore it to bed.
Garland passed away at 47 after overdosing on pills.
Citations: Teenage Judy Garland Was Repeatedly Molested by Munchkins on Set of Wizard of Oz, According to Her Ex-Husband (People)