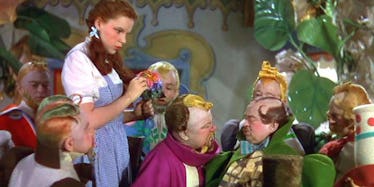 Judy Garland's Ex Says She Was Molested By 'The Wizard Of Oz' Munchkins
MGM
Hollywood legend Judy Garland was molested by her co-stars while working on "The Wizard of Oz," according to her ex-husband Sid Luft.
Luft made allegations about Garland's struggles on the set of the movie in his new book, "Judy and I: My Life with Judy Garland." In it, he claims she was groped by several actors who played Munchkins during the film's production.
In the book, he writes,
They would make Judy's life miserable on set by putting their hands under her dress… The men were 40 or more years old… They thought they could get away with anything because they were so small.
The alleged abuse makes sense given rumors of debaucherous behavior on the set of the film. During an interview in 1967, Jack Parr famously recalled alcoholism being a major problem for actors in the movie, saying,
They were drunks… They got smashed every night, and they picked them up in butterfly nets.
There are those, however, who deny this behavior ever got out of control.
During an interview in 2009, actress and fellow "The Wizard of Oz" alum Margaret Pellegrini was insistent things weren't as bad as the rumors suggested, saying,
There were a lot of them who liked to go out and have a few drinks, but nothing got out of hand. Everyone was having a good time and enjoying themselves. There was no rowdiness or anything like that, and those stories are very upsetting.
As much as Garland will always be remembered as one of Hollywood's biggest stars, her off-screen life serves as a cautionary tale for child stars and anybody trying to get into the industry.
In Luft's book, he talks about how Garland unsuccessfully tried to commit suicide by slashing her own throat:
Judy had cut her throat with a razor blade…. What demons inhabited her soul just when life seemed so rich and productive? It was a gigantic puzzlement that she would poison herself with pills, and that the toxic reaction to whatever she swallowed would create an impulse for self-mutilation.
Luft was Garland's third husband. She died in 1969 at the age of 47.
Citations: Judy Garland Was Allegedly Molested Several Times By Wizard Of Oz Munchkins, So Claims Her Ex (Perez Hilton)