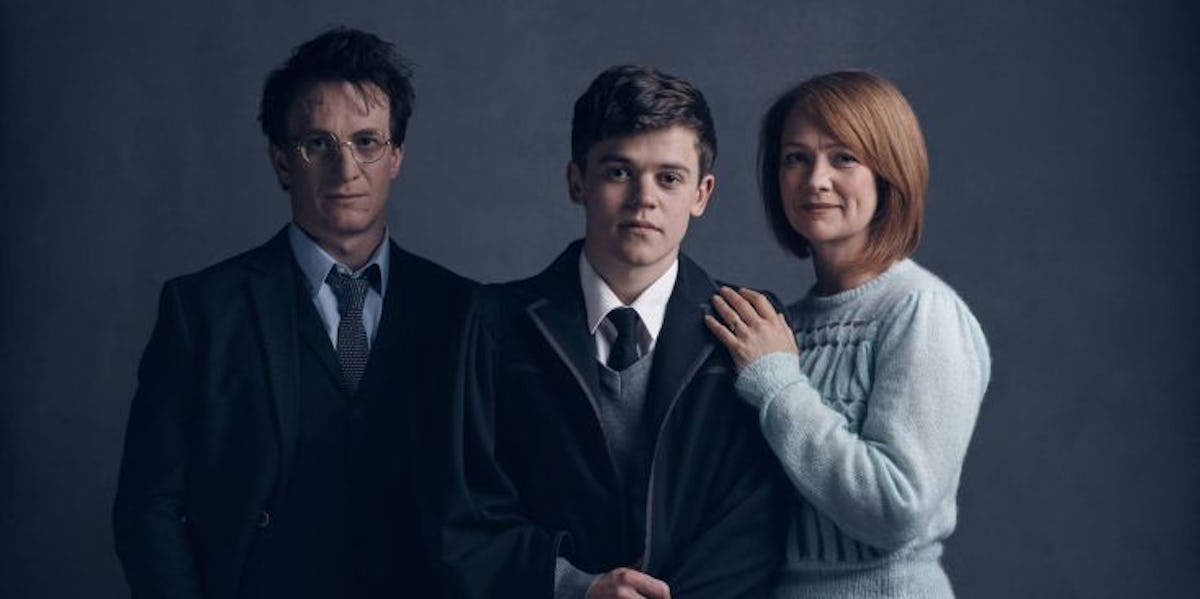 J.K. Rowling Admits She Originally Didn't Want 'Harry Potter' On Stage For This Reason
Pottermore
The hottest ticket on Broadway in 2018 for the first time in years isn't going to be Hamilton or Evan Hansen, or even a musical. This year, New York City's Great White Way is going to be home to Hogwarts School of Wizardry and Witchcraft in Harry Potter and the Cursed Child. The show, which is still sold out in London after winning nine Olivier Awards (the UK's version of the Tony Awards), is poised to take the U.S. by storm. But, it turns out J.K. Rowling didn't want Harry Potter on stage originally at all.
The opening blitz of promotional appearances that heralds Cursed Child's eventual arrival here in the U.S. started inauspiciously this weekend, with J.K. Rowling appearing on CBS Sunday Morning alongside her co-creators of Harry's future, playwright Jack Thorne and director John Tiffany. They mostly were steadfast in their quest not only to keep the spoilers of the show under wraps, but to spread the gospel of "#KeepTheSecrets" to theatergoers on this side of the pond.
But, Rowling did let one tidbit slip out in the interview -- namely that she originally did not want to do the show at all. It took quite a bit of convincing to get her on board with the project.
Rowling admitted it wasn't just them. She was saying no to everything.
I genuinely didn't want Harry to go onstage. I felt that I was done. I'd say no to everyone for ten years because, to answer your question equally directly, we all know I don't need the money.
Rowling, as we might remember, had moved on. She was writing a new, adult-oriented detective fiction series The Cormoran Strike Mysteries under the name Robert Galbraith -- though everyone knew they were really by her, and the BBC was already looking at adapting the series for the small screen as they had with her first post-Potter novel, The Casual Vacancy.
So, how did Rowling change her mind? For one, it was the creative team.
Rowling was persuaded to create Harry Potter and the Cursed Child Parts One and Two for London's West End because it was an opportunity to collaborate with John Tiffany and Jack Thorne. Thorne and Tiffany became her co-writers, and Tiffany also directed the five-hour, two-part epic. Nine Olivier Awards later, Harry Potter and the Cursed Child Parts One and Two are set to arrive on Broadway in spring 2018 at the Lyric Theatre.
For those who have been under a rock since last year when the script was released in book form, here's the official synopsis of the extravaganza.
It was always difficult being Harry Potter and it isn't much easier now that he is an overworked employee of the Ministry of Magic, a husband and father of three school-age children. While Harry grapples with a past that refuses to stay where it belongs, his youngest son Albus must struggle with the weight of a family legacy he never wanted. As past and present fuse ominously, both father and son learn the uncomfortable truth: sometimes, darkness comes from unexpected places.
But for those who are thinking perhaps a slate of seven (or eight) Broadway shows, prepare to be disappointed. While this show may be changing the face of theater, and challenging the very notion of the sort of effects one can pull off in a live theater setting versus on screen, there will be only one. Or, well, since it's so very long, I suppose you could say two.
Harry's story now, I think I'm done. I needed to be persuaded to do [it] 19 years on, and I'm really glad I was persuaded because I'm so proud of this play, but no, we're not going to see Albus' son go to Hogwarts, not on my watch.
Don't worry. There are plenty of fan fiction writers who probably already have that covered.