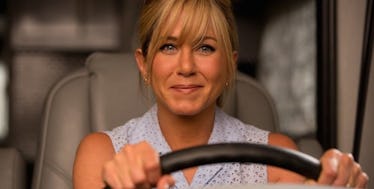 Dreams Do Come True: Jennifer Aniston Might Be In A 'Mean Girls' Spinoff
Warner Bros.
I never thought this day would come, but there's going to be a "Mean Girls" spinoff of sorts, and it may very well star Jennifer Aniston.
Aniston is in talks to star in a film called "Mean Moms," a movie based on an advice book by Rosalind Wiseman, the same woman who wrote the book "Mean Girls" was modeled after.
Technically, this film will not be a true sequel to "Mean Girls," but it will be in the same vein.
The plot synopsis is this:
A happily married mother of two who moves from small-town America to the high–class suburbs suddenly must confront the cutthroat world of competitive parenting.
The deal with Aniston is not finalized, and there is no word yet on who else will join the cast, but the film will be written and directed by Sean Anders, the director of "Horrible Bosses 2," a film also starring Aniston.
Citations: Jennifer Aniston To Star In Mean Moms So Lets Dream Cast This Mean Girls Spin Off (Bustle)