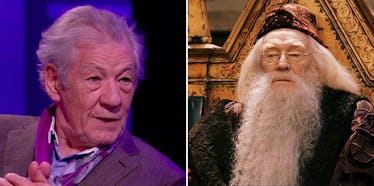 Ian McKellen Finally Explains Why He Didn't Play Dumbledore In 'Harry Potter'
BBC/Warner Bros.
"Harry Potter" fans who disliked Michael Gambon's aggressive take on the gentle Albus Dumbledore have long wished Sir Ian McKellen took the role instead.
After all, the now 77-year-old actor had already given a brilliant performance as one wise, old wizard (Gandalf in the 2001 film, "The Lord of the Rings: The Fellowship of the Ring") so he seemed like the perfect choice.
Sadly, when the beloved Richard Harris died after playing Dumbledore in two "Harry Potter" films, we did not get Gandalf to fill in. Instead we got this:
Which left many fans lamenting: Why oh why did Sir Ian abandon us this way?
Well, in a new interview on the BBC talkshow "Hardtalk," Sir Ian opened up about being approached to play the iconic "Potter" role — and why he turned it down.
As it turns out, before he died, Richard Harris had been rather critical of Sir Ian, calling his acting "technically brilliant, but passionless."
Understandably, Sir Ian didn't really take that as a compliment.
The 77-year-old actor explained,
When [Harris] died — he played Dumbledore of course, the wizard, though I played the real wizard — they called me up and asked if I would be interested in being in the 'Harry Potter' films. They didn't say what part, but I worked out what they were thinking. I couldn't. I couldn't take over the part from an actor who I know didn't approve of me.
That's actually incredibly respectful and big of Sir Ian, in a weird way, considering it was on behalf of an actor who apparently didn't respect him.
But dammit, Richard Harris! Like, you're a brilliant Dumbledore, and RIP, but why'd you have to go and ruin this?
We were so close to getting Gandalf! So close!
Now we're just stuck with Michael "DID YA PUT YA NAME IN THE GOBLET OF FIYA?!?!" Gambon forever.  (Who famously never even read the books.)
Dumbledore was supposed to ask that calmly. CALMLY!
Citations: Sir Ian McKellan on why he turned down Dumbledore (BBC)