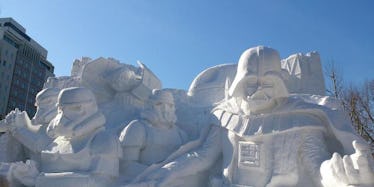 Biggest Nerds Ever Create Giant 'Star Wars' Sculpture Out Of Snow (Photo)
Twitter
The Japanese sure do have a thing for "Star Wars."
A mammoth snow sculpture was erected in honor of Darth Vader and the Empire at the annual Sapporo Snow Festival.
The sculpture, which took close to a month to build and used over 3,500 tons of snow, is essentially what it would look like if the Empire built Mount Rushmore.
The sculpture features Vader, some Stormtroopers, TIE fighters and the Death Star.
The snow monument is really quite an accomplishment, and it has the most snow ever used in a sculpture in the history of the festival. Check out this monster shrine below.
Behold, THE POWER OF THE DARK SIDE:
一番の目玉。雪のスターウォーズ!迫力が凄いです #雪まつり現地リポート pic.twitter.com/3wDOyWquFD — 夢神@春休み (@yume_kami) February 5, 2015
雪まつりのスターウォーズみた!ベイダー卿はep5だった!トルーパーもホスの戦い仕様っぽいしep5かな? pic.twitter.com/6lxEd4yoAp — きゃしー kyaku かい (@kyakunasut) February 5, 2015
雪まつりの準備中!スターウォーズがテーマらしい pic.twitter.com/wzhJbGkPVJ — まっきー (@mamemackey) January 25, 2015
Citations: Japan Turns Hoth into Mount Rushmore (Kotaku)