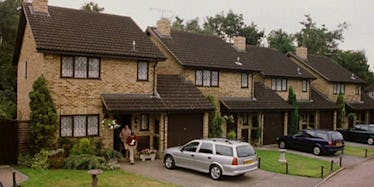 Harry Potter's House Is For Sale -- Cupboard Under The Stairs Not Included
Warner Bros
OK, "Harry Potter" fans, here's a conundrum: Would you want to live at Number 4 Privet Drive?
Because you totally can, if you want to. (And if you have enough money to buy the house. And if you live in Berkshire, England.)
A home that is identical to the one used for the exterior shots of the Dursley house in the Potter films has been found for sale on a real estate website for £475,000, or $619,485.
The house is not located at 4 Privet Drive, Little Whingeing, Surrey, rather it's at 12 Picket Post Close in Martins Heron, Bracknell.
The listing doesn't mention anything about the house's magical past, and there is an actual Privet Drive designated house on that same street.
So it's unlikely this is the exact same home you saw covered in owls in "Harry Potter and the Sorcerer's Stone."
But still. As you can see from the picture of the listing, it's literally identical to the house in the film.
So here's the question, though, Potterheads: Do you really want to live in the home where little Harry was basically abused for 11 years?
Like, who makes a child live in a closet? That's messed up. Do you really want to live with that negative energy?
But on the other hand, maybe some day you'd see some owls hanging around and finally get your Hogwarts letter.
Up to you! It is our choices that show who we truly are, of course.
Citations: Harry Potter's childhood home can now be yours — for a price (Mashable)