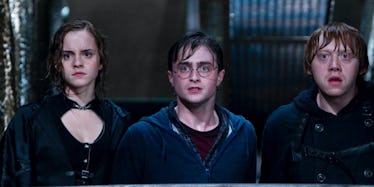 All 8 'Harry Potter' Films Will Be Returning To IMAX Theaters, Muggles
Warner Bros.
Have you ever wanted to basically live inside of a cinema and watch all eight "Harry Potter" films in the most magical movie marathon of all time?
Well, get your wands out in celebration because the entire Wizarding World saga is coming back to life (jeez, how many horcruxes does it have?) on the IMAX screen.
IMAX recently announced the news that the every "Harry Potter" movie will be available to watch in select theaters starting October 13, saying,
Starting Thursday, October 13, gather your fellow Gryffindor house members (or Slytherin, we won't judge you) and take the Hogwarts Express back to the School of Witchcraft and Wizardry.
Did IMAX just cast "Avada Kedavra" on me? Because this news is killing me.
For a week's time, you can check out every film from "Sorcerer's Stone" to "Deathly Hallows: Part 2." Not only that, but according to Variety there will be special guest appearances at the London and Los Angeles locations.
Hey, Los Angeles is where I live! Maybe I'll get a chance to meet Hermione Granger and ask her to my version of the Yule Ball.
Just to be clear, my version of a Yule Ball is just going to a dive bar and ordering a "Butterbeer" before being asked to leave the establishment for humming the "Harry Potter" theme song.
Merlin's Beard! There will even be a Q&A, too.
Will I get a chance to ask, "What would I get if I added powdered root of asphodel to an infusion of wormwood?" Only if security lets this Muggle in!
Along with these eight movies, you can also get a chance to watch (and re-watch over and over and over again if you plan on buying tickets to every film in the franchise like I am) an exclusive sneak peek at "Fantastic Beasts and Where to Find Them."
In the meantime, you can check out the latest trailer below.
This is just another fantastic reason to be a "Harry Potter" fan in 2016!
Citations: HARRY POTTER IMAX® WEEK - BEGINNING OCT. 13 (IMAX)