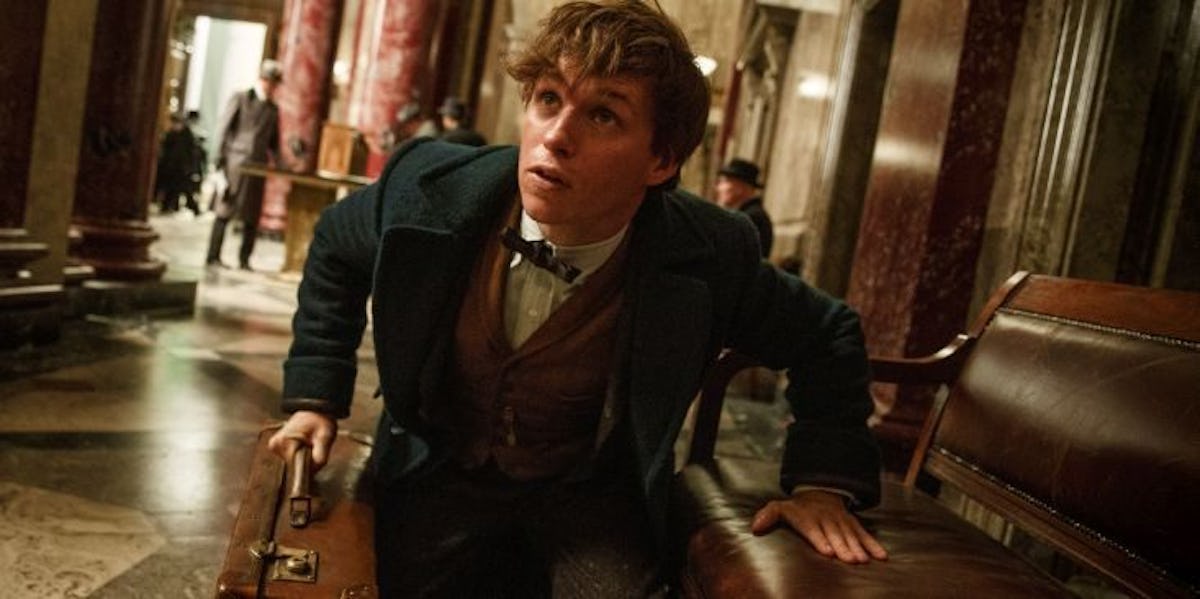 This 'Harry Potter' Celebration May Include Our First Look At 'Fantastic Beasts' 2
Warner Brothers
Fall is in the air. All the little wizards and witches have gone back to Hogwarts or Ilvermorny and are studying away. Meanwhile, down in Florida, the Wizarding World of Harry Potter isn't letting Hurricane Irma get in the way of progress, and have announced the dates for the 2018 "A Celebration of Harry Potter." The three-day weekend, which is held at the end of January, will span from Friday, Jan. 26 to Sunday, Jan. 28, 2018. And while nothing is confirmed at this point, you can mark those dates as when we'll most likely receive our first Fantastic Beasts 2 teaser.
Now in it's fifth year, the Celebration of Harry Potter at the original Wizarding World Theme Park at Universal Studios has become a yearly mecca for Potterheads of all ages, shapes and sizes, including those who are magical, muggle and no-maj. The first one was held in 2014, three long years after the last movie came out, but well before the second wave of Pottermania started with the Fantastic Beasts And Where To Find Them quintology and the 19 years later sequel of Harry Potter and the Cursed Child.
Even at that point, it was an instant rousing success, giving truth to statement that Pottermania never went away in the first place.
Though Daniel Radcliffe, the boy wizard himself, has not attended one yet, nor Rupert Grint, or Emma Watson, every year, the park manages to round up a good cross section of guest stars for fans, from James and Oliver Phelps (who played the Wealsey twins), Evanna Lynch (who played Luna Lovegood), Matthew Lewis (who played Neville Longbottom), and even Tom Felton and Jason Isaacs (who played Malfoy father and son).
As the event has grown, it has quickly become J.K. Rowling's destination to release new material and content for Pottermore, the official site for all things magical, and well as Warner Brothers' best event for releasing material and news about the upcoming Potter prequels and sequels and also the theaters who are putting on the Cursed Child show.
In that way, A Celebration of Harry Potter now rivals Universal Orlando's *other* major fan celebration weekend, the Star Wars Celebration, which is splits bi-yearly with their European counterpart. Lucasfilm and Disney have used the Celebration years in the United States as a way to release trailers for the new trilogy, Star Wars news and roll out new friends like BB-8.
Two years, ago, during the Celebration of Harry Potter 2016, even though the event was only three years old, there was a multi-angled effort by all parties to the Wizarding World franchise to go all out. Pottermore has only relaunched that past fall, the first Fantastic Beasts movie was coming, and we were weeks away from learning Cursed Child would be coming to bookstores.
Not only did J.K. Rowling use it to drop brand new writing expanding the Wizarding World globally, introducing Hogwarts' sister schools around the globe, but we got a full Fantastic Beasts trailer, and a full two minute video exploring behind the scenes at London's upcoming Cursed Child production.
This coming year's Celebration of 2018 coincides with the sequel to Fantastic Beasts, the still untitled Fantastic Beasts 2: Bêtes Fantastiques En France. One could say this is the make-or-break year for the Beast films, as many reviewers felt they could not fairly judge the first movie until they had seen the next installment as to whether this prequel series held water.
It's also coincidentally the year that Harry Potter and the Cursed Child will bring the original cast of the London West End production to Broadway for American audiences to experience. With a captive audience that weekend, and fans around the world tuning into the livestreams of the major events, it's a good bet we'll not only be seeing a trailer for one, but a promotional video of some sort from the other.
Will Pottermore also get into the act? For that we'll have to wait and see. But we have a feeling it will be a magical weekend no matter how you slice it.