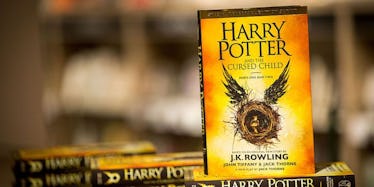 'Harry Potter And The Cursed Child' Just Announced Its Broadway Cast & It's Magical
Rob Stothard/Getty Images
Get ready for a little bit of magic in your lives, New York Muggles, because the Harry Potter and the Cursed Child Broadway cast was just announced, and it's... the original West End cast! So if you're an American Potterhead who couldn't afford a plane ticket, and were despairing over missing the iconic Noma Dumezweni as Hermione Granger, fear not! She and six other core cast members from the original West End production will be reprising their roles in Harry Potter and the Cursed Child at Broadway's Lyric Theatre, which will begin previews in March.
Jamie Parker (Harry Potter), Noma Dumezweni (Hermione Granger), Paul Thornley (Ron Weasley), Poppy Miller (Ginny Potter), Sam Clemmett (Albus Potter), Alex Price (Draco Malfoy), and Anthony Boyle (Scorpius Malfoy) are the seven original cast members coming to Broadway,  joined by 28 new actors, according to a Cursed Child press release on Wednesday. So that's right, Scorpius is back too — whose portrayal by 23-year-old Anthony Boyle was highly praised by fans and critics alike.
These original seven cast members will be joined by David Abeles, Brian Abraham, Shirine Babb, Jess Barbagallo, Stephen Bradbury, Lauren Nicole Cipoletti, Joshua De Jesus, Jessie Fisher, Richard Gallagher, Susan Heyward, Geraldine Hughes, Edward James Hyland, Byron Jennings, Katie Kreisler, Joey LaBrasca, Andrew Long, Kathryn Meisle, Angela Reed, Dave Register, Adeola Role, JamesRomney, Malika Samuel, Alanna Saunders, David St. Louis, Stuart Ward, Madeline Weinstein, Alex Weisman, and Benjamin Wheelwright, playing a variety of characters.
Director John Tiffany said of the cast,
We have assembled an extraordinary cast for Broadway. Our Cursed Child family is growing with 28 brilliant new actors bringing their unique talents to our production. I also can't wait to dive back into it with seven of our original London cast members reprising their thrilling performances for New York audiences. The adventure continues.
OK, did someone slip me some Felix Felicis, or what? Because, Merlin's Beard, today is my lucky day.
Preview performances of Cursed Child Parts One and Two will begin in New York at the renovated Lyric Theatre in March 2018, with an official opening on Sunday, April 22, 2018. Tickets for the show will go on sale October 12, and registration for tickets begins October 1. And just so you all know, I will be fighting you for these tickets, and I will win.