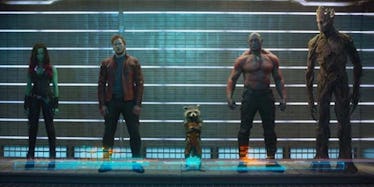 Here's Why This One Scene In 'Guardians Of The Galaxy Vol. 2' Was So Brutal To Shoot
Marvel/YouTube
We all love over-the-top movies packed with action, thrills, and CGI, right? Right. It's hard to resist the excitement of watching your fave superheroes and super villains battling it out on the screen right in front of you. That's what makes Guardians of the Galaxy: Vol. 2's scenes so freakin' awesome: Every one is loaded with the kind of exhilaration we have come to expect from Marvel movies.
In fact, most of the time we're so busy paying attention to the chaos of the actual scenes we don't even think about the struggles that went into filming them.
Recently, though, the director of Guardians of the Galaxy: Vol. 2, James Gunn, uploaded a pic to his Instagram to give fans a little behind-the-scenes story about the challenges of filming one particular scene for the movie.
The scene in question is the opening scene of GotG: Vol. 2 with Ego and Meredith Quill. The scene we see in the movie looks like any other scene in any other Marvel movie: polished and effortless; but that's because we didn't know the backstory... until now.
In the caption to his picture, Gunn gave a little info on why this one scene was so brutal to shoot. The director revealed to fans the Ford Cobra we see in the opening scenes of the movie kept breaking down for hours at a time and messing with their filming schedule. This was a huge problem because the film crew only had one day on the Georgia backroad to get the shots for the movie, and the helicopter they were using for their aerial zoom shots was only theirs for the day, as well.
Naturally, losing hours at a time on set because of car troubles is not ideal for anyone involved, and Gunn even wrote that some of the shots taken that day were unusable because it had gotten too dark to film them. Luckily for us, though, the director was able to get enough shots for the opening scene and GotG: Vol. 2 is everything we could've hoped for.
That being said, anytime you wanna throw some more inside scoop about filming our way, we'll be ready.