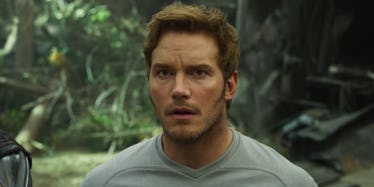 'Guardians Of The Galaxy 2' Didn't Impress Critics, And Here's The Reason Why
Marvel
I think it's safe to say that 2014's "Guardians of the Galaxy" is still one of the most beloved movies Marvel has ever produced.
In a climate where superhero movies seem to be overwhelmingly dark and destructive, "Guardians" imbued the genre with a lightness and humor (not to mention a killer throwback soundtrack) that many fans were craving.
But the more successful and beloved the movie, the harder it is to follow up. And sadly, it sounds like "Guardians of the Galaxy 2" might have fallen into the cursed sophomore slump.
Although the second "Guardians" movie won't hit theaters until May 5, the reviews are in and, unfortunately, they're not exactly great. They're not bad either, but the consensus seems to be that after all the excitement and joy of the original movie, this new one just falls flat.
Check out what movie critics are saying about the "Guardians of the Galaxy 2" below.
It's still a good Marvel movie (at times, a very good one), but it's a come down from the dizzying highs of the first installment. The laughs are still there, but they're less involuntary.
'Guardians of the Galaxy Vol. 2' is an adventure worth taking, and the number of moviegoers around the planet who will want to take it should prove awe-inspiring. But it doesn't so much deepen the first 'Guardians' as offer a more strenuous dose of fun to achieve a lesser high.
Most of [the] maverick mercenaries prove rather less charming the second time around; they're like bickering family now and not in an amusing way.
'Guardians of the Galaxy Vol. 2' can't match the sneak-attack surprise of its predecessor. You can only do that once. The good news, however, is that the followup, while taking on some CGI bloat and sequel slickness, hasn't lost its love for inspired lunacy.
To sum all that up: It sounds like "Guardians 2" is actually a pretty fun movie that fans of the genre will most likely really enjoy, but it also has its fair share of problems. And apparently, its biggest problem is it loses a lot of the humor and lightness that made the original movie so beloved.
But hey — aside from paling in comparison to its predecessor, "Guardians 2" did get generally favorable reviews, so I'm still going to be sitting in that movie theater on May 5!