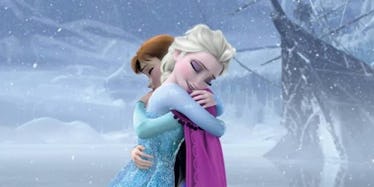 Disney Just Announced The Release Date For 'Frozen 2' And We Can't Wait
Walt Disney Pictures
If you're a human who was born between the years of 1980 and 2017, chances are you're obsessed with Disney.
There's an even greater chance you're obsessed with Disney musicals, and even greater chance, still, that you think the best Disney movie of all time is "Frozen."
Well hang on little Elsas of the world, because I HAVE NEWS.
Disney just announced we will have something to be extra thankful for on Thanksgiving...of 2019...as they will be releasing the sequel to "Frozen," aptly titled "Frozen 2" (because Disney is nothing if not to the point) and we can't wait!
Olaf fans can mark their calendars and expect to have a frozen dinner (get it!?) and date night on November 27th, 2019, the day after Thanksgiving.
Of course, "Frozen" star and voice of beloved Anna, Kristen Bell, rejoiced on Twitter.
Great. Just when I get the song "Let It Go" out of my head, Disney has to go and put it RIGHT BACK IN for the next two years.
It's like, can't a girl LIVE without being reminded her life isn't that of an actual Disney Princess and that the world won't necessarily thaw from the dark, sometimes pretty cold place it can be like it does in the movie Frozen?!? Hello?! Universe?!
E! News also reports that a little film called "Star Wars: Episode IX" (I don't know. Never heard of it.) is also set to release on May 24th, 2019 and Steven Spielberg's Indiana Jones will be coming to theaters July 10th, 2020.
Shout out to Harrison Ford for refusing to retire his whip and hat.
In the meantime, we have roughly two years to iron our Elsa dresses, brush our Elsa wigs and work on our high C's so we're ready for the next big ballad.
One thing is clear: Disney refuses to help us let "Frozen" go.
Citations: Star Wars: Episode IX, Frozen 2, Live-Action The Lion King and Indiana Jones Get Release Dates (E! News)