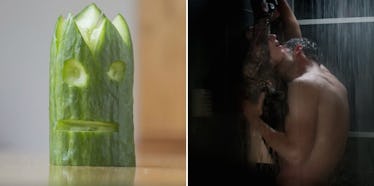 Dear 'Fifty Shades' Fans: Stop Bringing Cucumbers Into Movie Theaters
REX/Shutterstock/ YouTube
A lady was caught making a salad in a theater during a showing of "Fifty Shades Darker" last night.
At least that's what the movie theater manager, who found a full-on cucumber under a seat in the auditorium, is praying to God happened.
The following image was posted to Facebook by the Hayden Orpheum in Sydney and captioned, "That awkward moment when you find a cucumber in the cinema after a session..."
Before we go an inch further, I'm going to ask the one and only question everyone should be asking...
WHY THE HELL WOULD YOU JUST PICK UP SOMEONE'S "FIFTY SHADES" CUCUMBER ALL RAW DOG-STYLE WITHOUT GLOVES OR ANYTHING?!?!?!?
Cucumbers are the most penis-y vegetables out there. I'll give you one guess what the person -- who brought that bad boy into a movie I don't even need to Google to know the Vatican denounced -- was doing with it.
I'll give you a hint: She wasn't trying to give her cat a heart attack.
OH, WAIT. THIS ISN'T A ONE-OFF THING!?!?!?!
Someone else posted a picture of these sad, sad, jumbo gherkins laying in a theater after a different "Fifty Shades" showing.
This better not become a trend. I should be able to watch Christian Grey finger-kaboom Anastasia Steele in an elevator without hearing a chorus of squishy sounds coming from the row behind me.
THIS HAS BEEN HAPPENING SINCE THE FIRST GODDAMN MOVIE?!?!?!?! COME ON, HUMANITY!!!!
WHAT IS THIS CRAP?!?!?!!
Don't be weird and lady-jerk off in a movie theater. Do it normal style like everyone else does.
Step 1: Play this trailer.
Step 2: Light some candles.
Step 3: Lock the doors of your apartment, call the FBI and stage a fake bomb threat so your entire building and the surrounding blocks are evacuated.
Step 4: When the firefighters knock on your door to bring you out, act like nobody is home.
Step 5: After you are sure there is nobody within a full half mile of your apartment, "make your magic" as quiet as possible to not let God know you do this sin.
Step 6: Have fun!
Citations: Somebody left their cucumber behind after this 'Fifty Shades Darker' screening (Mashable)