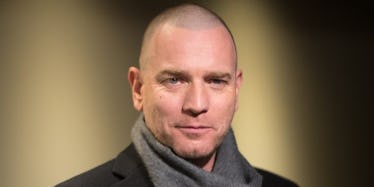 Ewan McGregor Will Star In Disney's Live-Action 'Winnie The Pooh' Movie
Getty Images
After more than 50 years as a little boy hanging out in the Hundred Acre Woods, Christopher Robin is finally going to grow up.
And apparently, grown-up Christopher Robin looks a lot like Obi-Wan Kenobi.
Ewan McGregor is in negotiations to play Winnie the Pooh's best buddy in Disney's upcoming live-action "Winnie the Pooh" movie, Variety reported. And yeah, this whole thing totally came out of left field for me, too.
I mean, I would have never really predicted this casting choice in a million years, but I guess it makes sense. Christopher Robin could definitely grow up to look like Ewan McGregor.
Plus, Ewan is already in the Disney live-action remake biz after starring as Lumiére in this year's "Beauty and the Beast." And let's not forget Disney now owns LucasFilm, the company behind Ewan's most famous role, and that he's still working with in the upcoming "Star Wars" films.
Ewan will play the title role in Disney's "Christopher Robin," which sees the boy from the "Winnie the Pooh" franchise as a grownup having lost the sense of imagination that had once defined him.
Enter Pooh, Piglet, Tigger and all of his other childhood friends to help him get it back.
The movie is still in its early stages, with the script still being crafted by some of the writers behind Pixar's' "Up" and "Hidden Figures," so there's no release date yet.
Ewan is the first cast member of the movie to be announced, and we don't even know how "Christopher Robin" will portray Winnie and the other animal leads yet.
Though the original "Winnie the Pooh" cartoons featured colorful hand-drawn animation, Disney has been opting for 3D CGI animation in its live-action remakes, as in 2016's "The Jungle Book" and this year's "Beauty and the Beast."
But honestly, I can't really imagine how they're going to recreate Winnie the Pooh in CGI without it looking kind of stupid... we'll just have to wait and see, I guess.
Citations: Ewan McGregor to Star in Disney's 'Christopher Robin' (Variety)