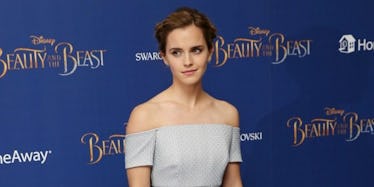 Emma Watson Channels A Different Princess At 'Beauty And The Beast' Premiere
REX/Shutterstock
In case you had any doubts Emma Watson will crush it as Belle in the live-action remake of the Disney classic "Beauty and the Beast," well, look no further than her appearance on the red carpet at the London premiere of the film.
The 26-year-old Watson looked absolutely majestic when she stepped out in front of the cameras Thursday evening, but as you can see, she looked more like Cinderella than she did Belle.
BANG, BANG!!!
According to Elle, Watson's dress is designed by Emilia Wickstead, and it's made from sustainable fabrics. Who knew Cinderella was an eco-warrior?
It's somewhat ironic Emma Watson dressed like Cinderella for the "Beauty and the Beast" London premiere because she reportedly turned down the opportunity to play Cinderella in a different live-action remake.
Speaking on her decision, Watson said,
I didn't know they were going to make 'Beauty and the Beast' at the time I turned down 'Cinderella.' But when they offered me Belle, I just felt the character resonated with me so much more than Cinderella did. She remains curious, compassionate and open-minded. And that's the kind of woman I would want to embody as a role model, given the choice.
Uh, good call, Emma! Although, it's hard to argue Emma Watson wouldn't have been one awesome Cinderella, right?
Speaking on her role as Belle and her relationship with the film, the 26-year-old actress said,
The other beautiful thing about the love story is that they form a friendship first. There is this genuine sharing, and the love builds out of that, which in many ways is more meaningful than a lot of love stories, where it was love at first sight. They are having no illusions about who the other one is. They have seen the worst of one another, and they also bring out the best. What's so beautiful about this story as a whole is this idea that Belle is able to see past these extraneous, external, superficial qualities of Beast. She is able to see deeper, and that's one of her special powers. It is her superpower: empathy.
For those of you not at Thursday's London premiere, you can catch "Beauty and the Beast" in theaters March 17, 2017.
Citations: Emma Watson Is Full Cinderella on the 'Beauty and the Beast' Red Carpet (Elle)