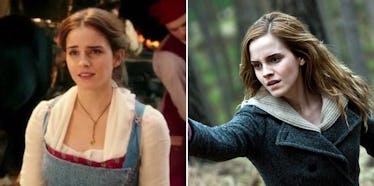 Emma Watson Says Belle From 'Beauty And The Beast' And Hermione Are 'Connected'
Disney/Warner Bros.
Emma Watson is very aware of the similarities between her two most famous roles.
Belle from "Beauty and the Beast" and Hermione Granger from "Harry Potter" are by no means the same character, but they share a few key qualities. Both are young girls who love reading and have compassion for all life.
(Though, as a die-hard Potterhead, I will interject here and say Hermione loves reading because she loves learning about the real world, and Belle loves reading because she loves escaping it. So, not quite the same.)
Still, the connection is undeniably there. In her cover story interview for the March issue of Elle UK, Emma Watson revealed that connection is one of the things that drew her to the iconic Disney role.
Watson said,
For me, 'Beauty' was the perfect, most joyful thing to do... There was something connected about Hermione and Belle, and it was good to be reminded that I am an actress; this is what I do. The film is pure escapism.
Fans looking for even more of a "Harry Potter" connection to "Beauty and the Beast" got another tiny shoutout in the most recent clip from the upcoming Disney film.
In the clip, Belle asks Monsieur Jean if he's lost something. He says in reply,
I believe I have. Problem is, I can't remember what.
This phrase is very familiar to anyone who's watched "Harry Potter and the Sorcerer's Stone" every time it's "Harry Potter" weekend on Freeform.
Considering Watson played Hermione for a solid decade (from 2001 when "Sorcerer's Stone" came out to 2011 when "Harry Potter and the Deathly Hallows: Part 2" came out), it makes sense to be drawn to similar roles.
That's not to say the 26-year-old actress doesn't have range.
"Harry Potter" fans might remember her abrupt departure from the rule-abiding Hermione Granger with her role as Nicki, a rebellious teenager who robs celebrities for fun, in the 2013 film "The Bling Ring."
Read the full interview with Watson in the March issue of ELLE UK out February 14, and catch "Beauty and the Beast" in theaters March 17.
Citations: EMMA WATSON IS ELLE'S MARCH COVER STAR AND 'WOMAN OF THE YEAR' AT ELLE STYLE AWARDS 2017 (Elle UK)