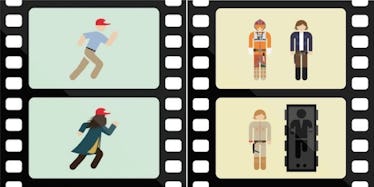 Clever Movie Posters Use Just Two Frames To Explain Each Storyline (Photos)
Who doesn't love a quality movie poster? My apartment is chock-full of them, and I think I've just found some more to adorn my walls.
These minimalist posters were created by Viktor Hertz and each one depicts a film, using only two frames to tell the story of the movie.
Hertz is currently raising funds to create and sell these bad boys on Kickstarter. He has done mockups of classic films like "The Big Lebowski," "A Clockwork Orange," "Star Wars Episode V: The Empire Strikes Back" and "Pulp Fiction."
You can check out the excellent artwork below.
A Clockwork Orange
Pulp Fiction
The Big Lebowski
Star Wars Episode V: The Empire Strikes Back
Fight Club
Forrest Gump
Citations: Pictogram Movie Posters That Depict Famous Films in Just Two Frames (Laughing Squid)