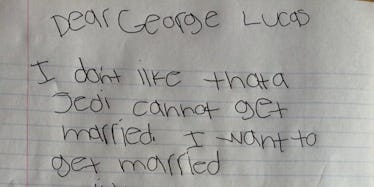 Boy Gets Best Response After Asking George Lucas To Let Jedis Marry (Photos)
A little boy named Colin recently wrote a letter to George Lucas about his love for "Star Wars."
Specifically, he was worried about the idea Jedis are not allowed to get married and have personal relationships because they may lead to the Dark Side.
Here's the letter the 7-year-old wrote to Mr. Lucas:
The good people over at Lucasfilm responded to Colin with an awesome letter and a sweet swag bag.
Colin couldn't have been more excited, especially since the people at Lucasfilm said it was OK for a Jedi to get married.
Here is the letter Colin got from Lucasfilm:
Here's the "Star Wars" swag:
And here is Colin's reaction:
I can only imagine how excited Colin was when he saw the new trailer for "Star Wars: The Force Awakens."
Citations: Lucasfilm Responds to 7 Year Olds Request to Let Jedi Marry (Geek Dad)