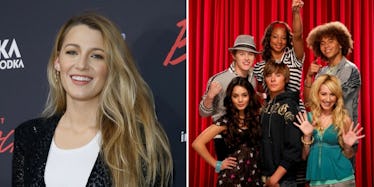 Blake Lively Is Related To This 'High School Musical' Star, And Our Minds Are Blown
Getty, Disney
Blake Lively has her head in the game, she's sticking to the status quo, and she's in this together with all the rest of us.
Yep, surprisingly enough, the Upper East Side isn't so far from East High after all, and our favorite Gossip Girl star has some close ties to the Wildcats.
It's a little-known fact that Blake Lively is the sister-in-law of none other than Coach Bolton himself: actor Bart Johnson.
We can thank Buzzfeed for bringing Bart Johnson's amazing Instagram account to our attention after he happened on a bit of viral fame recently.
In case you missed it, a couple weeks ago, some High School Musical fans spotted Bart out for a run and screamed when they recognized him as Troy Bolton's dad. Instead of getting annoyed or walking away, Bart took the time to give them a Wildcats-approved shoutout.
Anyway, it turns out the viral Coach Bolton shoutout is only one of many amazing fan interactions and HSM memories Bart shares on his Instagram. Seriously, he's definitely worth a follow if you're a HSM fan.
But the other wonderful thing you'll discover on his account is some photos with Blake Lively. That's because they are actually in-laws! Bart Johnson is married to Blake's sister Robin Lively (who '80s kids might remember as the star of Teen Witch).
That also means Coach Bolton is brothers-in-law with Ryan Reynolds as well. OK, I'm officially crashing their next family game night.
I think the next question we need an answer for in light of this family connection is whether or not Blake Lively can do the "We're All In This Together" dance. Bart Johnson is a master at capturing these perfect High School Musical fan moments, so I'll put the challenge to him.