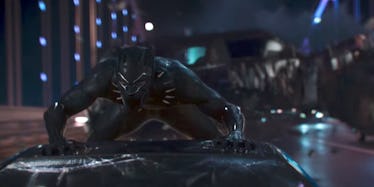 The 'Black Panther' Teaser Is Breaking Major Records And We Can't Wait For The Movie
Marvel
It looks like Marvel has another epic hit on its hands. Although Black Panther won't be out until next year, fans are already eating up the first teaser trailer for the movie.
In fact, the trailer is getting such an incredible amount of love it's already become one of the most viral movie trailers of all time.
It only took 24 hours for the ferocious, action-packed, two-minute first look clip of Black Panther to rack up an estimated 89 million views across platforms, according to PerezHilton.
Yes, that's 89 MILLION views in one day.
Of course, it helped the teaser trailer premiered during a commercial break in Game 4 of the NBA finals last Friday, but it seems pretty clear Marvel devotees would have given the teaser an immense viewing even without the boost from the big game.
The incredible response makes the clip the tenth most viral teaser of all time, based on the number of views in the first 24 hours of release. The only teasers that rank ahead of it include other recent mega-franchises like Transformers: The Dark Knight and Fifty Shades Darker, and Marvel buddies Captain America: Civil War and Thor: Ragnarok.
The upcoming remake of Stephen King's It easily tops the most viral teasers list with a whopping 197 million views in a day.
It's no real surprise the Black Panther first-look teaser is breaking viewership records: The movie has been hugely anticipated by fans for years, with an increased fervor following Chadwick Boseman's first appearance as Black Panther in last year's Captain America: Civil War.
The first teaser gives fans more intense action scenes featuring Black Panther, as well as introducing us to some badass new characters, such as Lupita Nyong'o and Danai Gurira as members of Wakanda's all-female special forces unit, the Dora Milaje, and Michael B. Jordan as the Black Panther's enemy for the Wakandan throne, Erik Killmonger.
Black Panther is slated to be released on February 16, 2018.