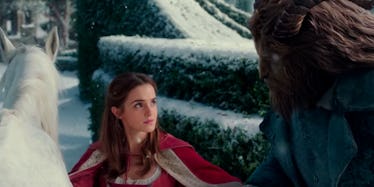 This New Pic From 'Beauty And The Beast' With Belle And Gaston Is Pure Magic
Disney
The live-action remake of the Disney classic "Beauty and the Beast" isn't set to hit theaters until March 2017.
However, over the last few weeks, fans have been treated to a slew of trailers and movie posters that have left them buzzing in anticipation of seeing the film on the big screen.
As we all know, Belle will be played by Emma Watson, and from what we've seen so far, the actress — who became famous for her role as Hermione Granger in the "Harry Potter" film franchise — looks absolutely stunning.
Actor Dan Stevens will play the Beast, but I want to shine a light on the villainous male lead character Gaston. Who could forget how brash and evil Gaston was in the animated version of "Beauty and the Beast"?
Yeah, me either.
Well, in the live-action remake of "Beauty and the Beast," Gaston will be played by Luke Evans, and despite the fact we know Gaston is about as bad a dude as they come, it's hard to describe this latest pic of Belle and Gaston as anything other than pure magic.
Belle and Gaston...I'm so excited #BeautyAndTheBeast pic.twitter.com/JEbJsWjvj4 — Markell Bailey (@tenorbuds) November 27, 2016
See, I told you that shit was lit.
Sure, "Beauty and the Beast" is an animated Disney movie, but let's not underscore Gaston's treachery for even a second. This dude was bad to the bone, and he was misogynistic and sexist as the day is long.
Though the above picture appears pretty tame and innocent, we know Gaston is only interested in Belle's physical appearance, which drives him to act on his instincts as a tough asshole.
Be our guest for an exclusive first look at @Disney's magical and romantic live-action #BeautyAndTheBeast! https://t.co/jniafxmEpV pic.twitter.com/xaIGIdc8EA — Entertainment Weekly (@EW) November 2, 2016
Emma Watson, I mean Belle, doesn't want to date or marry you, Luke Evans, er, Gaston.
In all seriousness, though, this picture from the set of "Beauty and the Beast" is visually stunning, and I can't wait for the live-action remake to hit theaters.
Citations: The Latest 'Beauty & The Beast' Picture Of Gaston Says So Much About His Relationship With Belle (Bustle)