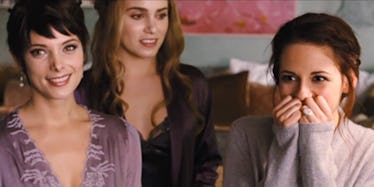 Bella's 'Twilight' Ring Is For Sale And No One Can Decide If It's Fugly Or Not
Summit Entertainmet
I bet you guys thought "Twilight" was over, didn't you?
I bet you thought you'd never have to see that oddly sensual apple again, didn't you?
(You know the one I'm talking about. That apple is a metaphor for an untouched vagina.)
Well, you thought wrong because "Twilight" is forever, apparently.
The year is 2016 and people are still giving money to this franchise. People are, in fact, still using this franchise to make important life decisions, like proposing to their significant other.
Thanks to an auction from Summit Entertainment and Prop Store, you can now buy the very same engagement ring Bella got from Edward in "Breaking Dawn Part 1."
You guys remember that giant rock, right?
And you remember how Edward proposed to Bella with it so he could finally have sex with her? (So romantic!)
Yep, that ring that was once held by Robert Pattinson and then graced a finger on Kristen Stewart's dainty hand is officially up for bids.
This ring, along with many other props from the "Twilight" films, will be on display and auctioned off at the TCL Chinese Theatres in Hollywood, CA this November 19 - 20.
So Twi-Hards, start saving your money now! The current bid for the ring on the website is $1,800, and that's bound to go way up during the actual auction.
Here's the thing, though: What's up with that ring?
I mean, right? That is not how engagement rings normally look, am I correct?
I honestly can't decide whether this ring is cool and vintage-y or just the ugliest effing ring I've ever seen.
When in times of inner turmoil, as always, I turned to the internet to help me decided. Unfortunately, you guys were super unhelpful.
On the one hand, some of you are super into this ring.
On the other hand, some of you are super NOT into this ring.
I DON'T KNOW WHAT TO BELIEVE! SHOULD I BUY THIS RING OR NOT?
Oh, right, I don't have a fiancé or any money at all.
Nice.
Anyways, what do you guys think?
Citations: Own Bella's Engagement Ring From 'Twilight'! Hundreds of Costumes and Props From Film Series Are Up for Auction (Us Weekly)