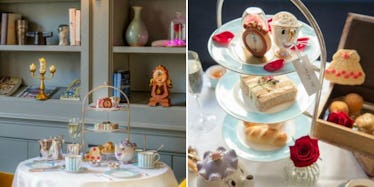 This 'Beauty And The Beast' Cafe Is Straight Out Of Our Disney Dreams
Townhouse Kensington/Instagram
If your dream is to have Lumière sing "Be Our Guest" to you while you munch on some delicious gray stuff, then your closest option is probably in London.
The Kensington Hotel is offering a "Beauty and the Beast"-themed afternoon tea menu and it's pure Disney magic.
DON'T BELIEVE ME? ASK THE DISHES. GO ON. I'LL WAIT.
Mrs. Potts? Check. Cogsworth? You bet your ass that salty clock is there waiting for you.
Town House, the hotel's restaurant, is offering a "Tale as Old as Time" menu that's $38 a person and $49 a head if you want a glass of champagne to down as well (like, who's not adding some bubbly, right?).
Don't worry, the bottles of champagne won't be wastefully exploding like this:
Although, chances are you will dance like Cogsworth you'll be so happy.
Heck, even Chip tells you to try the "grey stuff" from the film.
Side note: Was Chip born and conceived by the teapot version of Mrs. Potts? I have so many more questions.
Speaking of the menu, you can enjoy such items as vanilla and gold jelly served with a rose petal inside.
Or how about a spiced snow ball macaron comprised of coconut and chocolate? Or a chocolate ganache of Cogsworth's face?
Honestly, that sounds a bit creepy. Can you imagine Cogsworth pleading with you?
No, not my face. Please, spare me, you monsters.
Chilling.
And then, of course, there's the "Try the Grey Stuff." Don't worry, it's not a bodily fluid of some kind, but rather a white chocolate mousse.
The Town House had planned on having the pop-up menu only until March, originally.
However, due to the high demand, you can dine "Beauty and the Beast"-style until November 30.
I'd make those reservations now, though. It's completely booked through most of June.
Just think: By that time, we'll have seen the live-action "Beauty and the Beast" with Emma Watson at least 100 times.
Citations: You're Going to Lose It Over this Beauty and the Beast Café (Cosmopolitan)