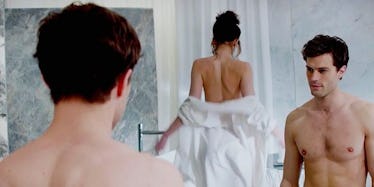 '50 Shades Of Grey' Director Says She Would Never Direct It Again For These Reasons
Universal Pictures
It's no surprise that over the past few years the 50 Shades of Grey franchise has (for better or for worse) become a cultural phenomenon.
Books, movies, and merchandise have earned E.L. James' story a seriously devoted fanbase. Whether it's for the erotic fantasy, the steamy sex scenes, the dramatic relationship between the two main characters, or the fact Jamie Dornan is really hot and gets naked a lot in the movies, people keep coming back for more of 50 Shades.
There is one person, however, who has made it abundantly clear she will never ever come back for more of James' 50 Shades. That's right, the original 50 Shades of Grey director, Sam Taylor-Johnson, flat out said she would be "mad" to go through the process again, according an interview with Cinemablend.
Taylor-Johnson has been vocal in the past about how she and James butted heads while producing the first 50 Shades film. She said of filming,
It was a struggle and there were lots of onset tête-à-têtes, with me trying to bat it into the [right] place.
Apparently, the two had plenty of disagreements over the film's sex scenes and lines specifically, with Taylor-Johnson lobbying for subtlety in the film and James pushing for more explicit adaptation.
James, however, had a nearly unprecedented level of control when it came to bringing her book to the big screen, which is likely what led to much of the tension.
The director told Porter magazine,
We definitely fought, but they were creative fights and we would resolve them. We would have proper on-set barneys, and I'm not confrontational, but it was about finding a way between the two of us, satisfying her vision of what she'd written as well as my need to visualize this person on screen...
Ultimately, the tense relationship between the writer and the director led Taylor-Johnson to say "laters, baby" to the franchise. When asked if she would go through it all again, she responded unapologetically:
Of course I wouldn't. I'd be mad.
Instead, Taylor-Johnson is bringing her creativity to Netflix with a new series, Gypsy, so at least we've got that to look forward to.