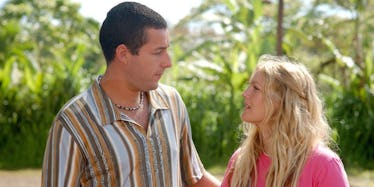 An Idea From '50 First Dates' Is Actually Helping Dementia Patients
Columbia Pictures
"50 First Dates" may be one of the lesser Adam Sandler movies, but a concept introduced in the film is being put to good use.
In the movie, Drew Barrymore's character suffers from short-term memory loss due to a traumatic brain injury.
In order to get Barrymore's character up to speed each day, Sandler's character plays her a videotape with relevant information about her life along with his own tender messages for her.
Now, actual patients suffering from Alzheimer's and other forms of dementia are being shown similar videos when they wake up in the morning.
At the Hebrew Home at Riverdale in New York, elderly patients with memory issues wake up to videos of their loved ones. This is an attempt to ease them into the day by exposing them to familiar words and images.
Charlotte Dell, director of social services at the facility, said,
['50 First Dates'] was fluff, but it made me think, 'How could that translate to our residents with memory loss?' We're looking to see if we can set a positive tone for the day. What better way to start the day than to see the face and hear the voice of someone you love wishing you a wonderful morning?
This is a new program at the home and it seems to be the first of its kind. Thus far, it has been successful and the staff members at the home are considering expanding its use with more patients.
However, this is not intended to have any long-term health effects, but it does seem to improve the mood of the patients using it.
Citations: Idea from Adam Sandler film used to soothe dementia patients (Yahoo!)