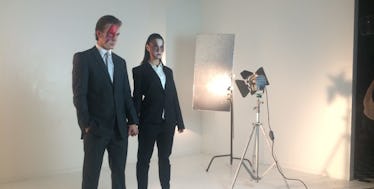 I Spent All Day On A Porn Set And This Is What I Learned About Women
Aimee Kuvadia
In 1985, Ms., the most widely read feminist magazine of the time, published a story on the divisive topic of porn, splashing across its cover were the words:
Is One Woman's Sexuality Another Woman's Pornography?
More than 30 years have passed since Ms. asked its readers this question, and still a consensus hasn't been reached as to the answer. In feminism, porn is a sort of gray area. Some regard it as misogynistic. Others see it as empowering.
Dana Vespoli, an award-winning porn director and actress, belongs to the latter group. Unencumbered by orthodox views of sexuality, the 43-year-old San Francisco native experiments with gender roles in her films, albeit while maintaining the appearance of a traditional hardcore porn for broader appeal.
Feminist porn like Vespoli's emphasizes female pleasure as much as it does male pleasure, explores nontraditional gender identities, and features an assortment of experience levels, body types and races, acknowledging that sexuality isn't one-size-fits-all.
As someone who's not very well-acquainted with porn, feminist or otherwise — I'm not against it, but it turns me off more than it turns me on — I wasn't sure what to expect arriving on the Los Angeles set of "Girl/Boy 2," Vespoli's latest creative endeavor.
"Oh, cool. I didn't know there was a girl-on-girl [scene]," says Leo, a production assistant, upon greeting me at the door.
"No, no," I say. "I'm just a reporter here to see Dana."
The mood is surprisingly anticlimactic, similar to what I'd expect the mood of an ordinary film set to be. The only difference is that here performers casually wander around in various states of undress.
Leo leads me into a devastatingly well-lit dressing room, where a woman with short blonde hair is applying what appears to be black and white makeup to Vespoli's face, and a female porn star in a sheer black garter set is looking at herself in the mirror, running her hands through her hair. A 30-something guy on a chair off to the side won't disclose how he fits into the situation.
Released in 2013, the first "Girl/Boy" played extensively with gender fluidity, featuring a sex scene with the androgynous actor Jiz Lee, who happens to be the inspiration behind the sequel.
It's only once in a blue moon that such a scene takes place, when I feel like I can insert myself into what is predominantly a very straight and binary-gendered industry.
Today, Vespoli will be directing and co-starring in an anal sex scene alongside Russian performer Markus Dupree. Both will have their faces painted to resemble Ziggy Stardust, David Bowie's androgynous alter-ego. Vespoli calls the late musician "the epitome of gender fluidity."
In the scene, I'm told the two actors will alternate between wearing a short black dress and three-piece suit, toying with the idea of twins and gender roles.
Vespoli says,
It's playing with people's perceptions of how things are supposed to be. It's a way of forcing the viewer to not be passive when they watch. What do you do when a girl looks like Ziggy Stardust? What do you do when a guy has a huge erection under a dress?
This is the sort of scene that attracted Vespoli to porn, not the "my-stepmom-f*cked-my-brother's-best friend" kind, she says.
Vespoli self-describes as queer, meaning she doesn't subscribe to any long-established notions of sexuality or gender. She was formerly married to a man and currently dates one, but has also engaged sexually with women and transgender individuals.
Her enthusiasm for porn developed at the tender age of 12, when she began watching a cable channel that transformed into an adult-entertainment channel late at night.
It wasn't long before she began experimenting with sex in seemingly atypical ways, namely asking her boyfriends to wear skirts and dresses as they messed around.
"I had such odd sexual proclivities in college," says Vespoli. "When I got into porn, no one flinched an eye about my proclivities."
A more mainstream porno is being shot at the same time as Vespoli's scene. To prepare, the longhaired actress in the dressing room with Vespoli, is crouched on the floor, rummaging through a suitcase full of naughty getups.
"Wear something that would impress me, like you're trying to get a job," the portly male director of the other film tells the aspiring star, who flies bi-weekly into LA from her Southern hometown to work in the industry. He adds,
Break out something 'girl next door,' something that can be torn.
The remark helps me to grasp what sets feminist porn apart: It doesn't rely on tired tropes like those of the girl next door or Catholic schoolgirl; it's completely out-of-the-box, twisting sexuality and gender in ways I never knew possible.
Most of us not engaged directly with the adult-entertainment industry probably see a significant difference, in terms of female empowerment, between Vespoli's brand of porn and the mainstream variety, but the feminist pornographers with whom I spoke don't seem to draw too much of a distinction.
Courtney Trouble, a queer porn icon, tells Elite Daily via email,
I do not believe that the disempowerment of women is inherent in pornography, so the correct question would be: when women are disempowered in films and photos, how and why does that happen?
Vespoli's mindset is similar. In her films, she toes the line between mainstream and fringe when it comes to style, but in regard to themes, they're anything but standard. She prefers her porn to be political and representative of real people.
"My life's work has to be meaningful," she says. "We don't need to shoot big oily asses getting f*cked. We have so much of that."
She adds,
For me, sex isn't just about getting off. Since a lot of young people's introduction to sexuality is through porn, I want to do something more realistic.
Transgender individuals attempt suicide at an alarmingly high rate of 41 percent. And it's no wonder: Society makes them feel like outsiders. Unfortunately, mainstream erotica sometimes does, too.
In "hermaphrodite" or "tranny" porn, intersex and transsexual people are debased through fetishization, humiliating language and stereotypes. Fem porn, conversely, portrays the marginalized group as it aims to portray all performers: humanely.
Vespoli points to a hypothetical transgender youth in Iowa, who feels alone and shunned as a result of his sexual identity, finding solace in a trans star such as Buck Angel, a very buff transitioned woman, being shown having sex in a beautiful way.
Lee, the genderqueer actor inspiring "Girl/Boy 2," works for Pink & White Productions, the San Francisco-based production company founded by black lesbian Shine Louise Houston barreling into the world of fem porn.
Houston writes on P & W's official site,
I believe there's a lot of room and need to create adult content that's real, that's respectful and powerful. I think it's the perfect place to become political. It's a place where money, sex, media and ethics converge.
Dupree, Vespoli's scene partner, is one of the most trusted men in porn. The gregarious actor, in broken English, tells me about how he lost his virginity at 18, and only two months after became a porn star. To ensure the women with whom he works feel empowered, he positions them in such a way during filming that flatters them instead of him.
"Ninety percent of the scenes are to make the girl look good," he says.
Vespoli keeps film crews small to ensure comfort, and allows performers to use protection if they desire. She requires those involved to show reverence for the sexual act.
"It's a sacred act, so you need to be respectful," she says.
One way she manages to keep bad apples off her set is reusing talent. Veteran porn director Sal Genoa is one of her go-tos, and, coincidentally, also her boyfriend.
"How do you feel about filming your girlfriend having sex with another man?" I curiously ask him. He says,
I've shot her at least 30 times. And I had sex with her this morning. We'll go home tonight, have dinner, and never even mention the scene.
Yep, no f*cks given. He doesn't see the industry or his girlfriend's co-stars as threats; having worked in porn for upward of 14 years, he knows female stars are by and large shown a great deal of respect.
"I'm in this industry because I love women and want to make them look beautiful," says Genoa.
But there is a dark undercurrent flowing beneath porn, and it has mostly to do with stigma.
Waiting in a space between the rooms in which Vespoli's and the mainstream director's scenes are being shot, I can hear the "girl-next-door" actress moaning some pretty NSFW stuff. It's loud, vulgar, things I don't think I could ever say seriously. Not that it's wrong, or that the actress isn't enjoying herself, but, for me, the moment evokes unease, even though I'm only hearing it.
For some performers, this unease never fades. Bree Olson, a former porn star who also was one of Charlie Sheen's live-in "goddesses," deeply regrets working in pornography.
She once told CNN,
I've really gotten to the point where there are days to weeks at a time where I don't leave the house because I don't feel like facing the world. People treat me as if I am a pedophile. They don't treat me like an ex-sex worker. They treat me like I would somehow be damaging to children.
Likewise, Simone Lieban Levine of Ms. magazine wrote in an updated version of the porn debate,
By hating porn and considering it to be a shameful pastime, profession or method of achieving sexual pleasure (both as performers or consumers), we force performers into the role of being lesser humans and hurt efforts to empower or legally protect performers.
So maybe the conversation shouldn't center so much on porn and female empowerment as society's curiously blinkered view of those who participate in it. After all, isn't feminism about endowing women with the ability to do what they want?