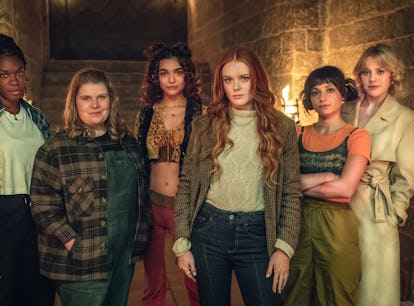 Fate: The Winx Saga Is Coming Back SO Soon
Right this way for all the Season 2 info.
Netflix
After the first season of Fate: The Winx Saga ended on a cliffhanger, fans were desperate to know if the show would continue. Despite mediocre reviews from critics, the series, based on an Italian animated children's series, drew in a hardcore fandom. And it seems fans' devotion will be rewarded, as Netflix has dropped a Fate: The Winx Saga Season 2 announcement trailer letting everyone know it is indeed happening — and it's releasing soon.
Based on Winx Club, which aired in the U.S. on Nickelodeon, Fate: The Winx Saga is a live-action version of the series following the adventures of Bloom, a fairy with fire powers. When the series begins, she discovers her abilities and enrolls at a magical boarding school in the Otherworld called Alfea College. There, she meets a group of friends, including Stella, a fashionable light fairy; Aisha, an athletic water fairy; Terra, an earth fairy; Musa, a mind fairy; and Beatrix, an air fairy who can manipulate electricity.
But Alfea isn't all that it seems. Farah Dowling, the stern Headmistress of Alfea, has secrets she's keeping from her students, including how hard she's working to keep them safe. Meanwhile, Rosalind, a previous headmistress of Alfea, has plans of her own and a long game for Bloom's future.
Here's everything fans need to know about the second season:
Fate: The Winx Saga Season 1 is streaming on Netflix.
This article was originally published on