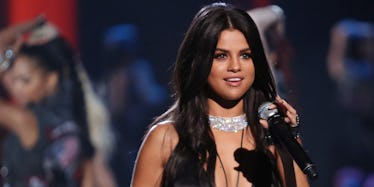 This Fan's Singalong With Selena Gomez Will Give You Chills
REX/Shutterstock
After watching this video, it's impossible to deny the positive influence Selena Gomez has on young girls.
Lorraine Ruiz's granddaughter is a huge Selena Gomez fan, and she recently attended her concert.
In a video captured by her mom, the young girl gets emotional while singing along with Selena's song, "Who Says," and it's honestly too much.
If you're not familiar with the song, it's all about believing in your own potential and self-worth.
Sure, it's a little cheesy, but just watch this video of this girl singing, "Who says you're not star potential? Who says you're not presidential?" with tears streaming down her cheeks and try to tell me you're not moved.
YES, YOU ARE PERFECT AND YOU ARE WORTH IT, BABY GIRL! YOU CAN ACHIEVE ANYTHING YOU WANT IN LIFE!
After being posted on Sunday, the video has been retweeted almost 6,000 times. Probably because it's making us all feel all the things.
Honestly, with all the harmful messages young girls get from pop culture icons, it's so beautiful to see a positive influence. Keep it up, Selena, you're doing it right.
Citations: People Love This Young Girl's Emotional Reaction to Selena Gomez (TIME)