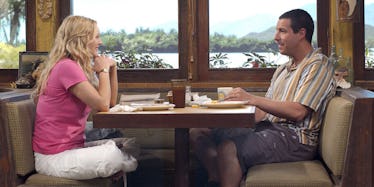 13 Famous Movie Restaurants Where You Can Actually Go To Eat
Columbia Pictures
You know what makes food taste better every time? Knowing famous people ate where you are eating!
Not gonna lie, the second I moved to New York City I hit up every famous spot from movies I could think of. It's pretty fun to see places from films you grew up watching right in front of you.
Now, of course, there's always going to be a little movie magic going on behind the scenes, so don't be too disappointed if a lot of these places don't look the same IRL as they do on the big screen (or your 13-inch MacBook Pro screen). But, here are some movie restaurants you can actually hit up for a meal.
1. Serendipity 3 from "Serendipity"
Where: 225 E. 60th St., New York, NY 10022
You can eat ice cream and fall in love in NYC just like John Cusack and Kate Beckinsale. Well, you can try, anyhow. Serendipity 3 is a real place on Manhattan's Upper East Side. Definitely order the famous frozen hot chocolate when you go.
2. The shawarma place from "The Avengers"
Where: 9340 W. Pico Blvd, Los Angeles, CA 90035
The best post-credits scene Marvel has ever done was shot at a real restaurant. It's not on a block in Manhattan like Iron Man says it is, but it is real. "Ant-Man" writer Edgar Wright tweeted the restaurant is called Elat Burger, located in LA. And yes, you can get shawarma there!
3. The Italian restaurant from "Twilight"
Where: 118 E. First St., Port Angeles, WA 98362
Bella Italia, the restaurant where Bella has her very first date with a 100-year-old vampire, is a real place in the state of Washington. The movie scene was actually filmed on a set in Oregon though, so don't expect it to look exactly the same.
4. Pizza Planet from "Toy Story"
Where: 351 S. Studio Drive, Lake Buena Vista, FL 32830
OK, so the restaurant is in Disney's Hollywood Studios in Florida, but you can go there. The building isn't shaped like a spaceship, but there is an arcade where you can torment poor, possibly sentient toys with The Claw.
5. Mendl's Bakery from "The Grand Budapest Hotel"
Where: Bautzner Straße 79, Dresden, Germany 01099
The bakery that made all those beautiful pastries in Wes Anderson's latest film is actually two different places in the real world. The exterior shot comes from a storefront in Görlitz, Germany, and the interior shots are of a famous creamery in Dresden, Germany called Dresdner Molkerei Gebrüder Pfund. There's also a bakery in Portland, Oregon that makes its own Mendl's Bakery pastries.
6. Katz's Delicatessen from "When Harry Met Sally"
Where: 205 E. Houston St., New York, NY 10002
You can have what Sally's having at the deli from that famous scene anytime you're in NYC! You can even sit at the exact table Billy Crystal and Meg Ryan sat at. It's marked by a sign that reads "Where Harry met Sally... Hope you have what she had!"
7. The Brazilian restaurant from "Bridesmaids"
Where: 14032 Oxnard St., Van Nuys, CA 91401
The restaurant where Annie takes the bridesmaids for authentic Brazilian food is called La Sirenita, and it's actually a Mexican restaurant. And presumably, the food won't make you take a sh*t in the middle of the street.
8. Thirsty Scholar Pub from "The Social Network"
Where: 70 Beacon St., Somerville, MA 02143
The bar where Mark Zuckerberg gets brutally dumped by his girlfriend was shot at a real bar near Harvard University. A fun fact to think about if you visit: That opening scene in the bar took 99 takes before the director, David Fincher, was satisfied.
9. The restaurant from "The Notebook"
Where: 199 E. Bay St., Charleston, SC 29401
The restaurant where Noah finds Allie with her fiancé after years of separation is a real place in Charleston, South Carolina. It's called High Cotton, and it's very fancy!
10. Bubba Gump Shrimp Co. from "Forrest Gump"
Where: 1501 Broadway, New York, NY 10036
After the movie came out in 1994, Bubba Gump Shrimp became a real thing, with restaurant locations all over the world, including NYC. Try not to cry about Bubba too much if you visit one.
11. Hukilau Cafe from "50 First Dates"
Where: 55-662 Wahinepe'e St., Laie, HI 96762
The cafe where Adam Sandler meets Drew Barrymore for the first time (and then again and again and again) is a real place in Hawaii -- but not actually where the scenes were filmed.
12. The proposal restaurant from "Love Actually"
Where: 15 Quai de Rive Neuve, Marseille, France 13007
The Portuguese (not actually) restaurant where Lúcia Moniz is working when Colin Firth clumsily (but so adorably) proposes is actually in the South of France. It's called Bar de la Marine.
13. The restaurant from "Mrs. Doubtfire"
Where: 44 Church St., Danville, CA 94526
The restaurant from the iconic scene where Robin Williams is forced to keep changing his outfit in the bathroom is called Bridges Restaurant and Bar, and it's in California. Hopefully your meal there won't be quite so stressful.
Citations: Portland bakery makes pastry from Wes Anderson's 'Grand Budapest Hotel' (OregonLive.com), The Vulture Transcript: An In-Depth Chat With David Fincher About The Social Network (Vulture)