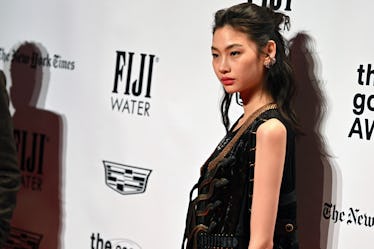 Here's Why Squid Game Star HoYeon Jung Is 1 To Watch
Alexi J. Rosenfeld/WireImage/Getty Images
When the K-drama Squid Game landed on Netflix on Sept. 17, 2021, it arrived with little fanfare and almost zero marketing in the United States. But the audience immediately picked up, and only 10 days after launch, Netflix was trumpeting the numbers, saying it could be the service's biggest show to date. By the end of October, it had beaten every show Netflix ever streamed and sent its cast into household names, from O Yeong-su to HoYeon Jung. And these facts about the latter, HoYeon Jung, are proof of how miraculous her Squid Game rise has been.
HoYeon Jung (or Jung HoYeon in Korean) played Kang Sae-byeok in Squid Game's first season. Her character was a North Korean defector who hoped to reunite her family and buy a house for them with the prize money from the contest.
Unfortunately, her character won't be back for Season 2, as she did not survive the first season. Her demise was one of the show's big twists toward the end of the season, as she was taken out by Sang-woo the night before the finale game.
But that doesn't mean HoYeon Jung is about to fade into obscurity. Here are a few facts to know about her budding career:
Squid Game Season 1 is streaming on Netflix.