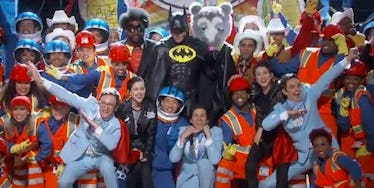 The Oscars' 'Everything Is Awesome' Performance Was Actually Awesome (Video)
The best part of this year's Oscars, thus far, was the performance of the song "Everything Is Awesome" from "The Lego Movie."
Tegan and Sara and The Lonely Island performed the song. Questlove made an appearance on drums, and a guitar-wielding Batman also accompanied the performance.
Members of the audience, such as Oprah and Channing Tatum, were handed Oscar statues made of Legos.
In a word, the performance was awesome. It definitely breathed new life into a somewhat stagnant awards ceremony.