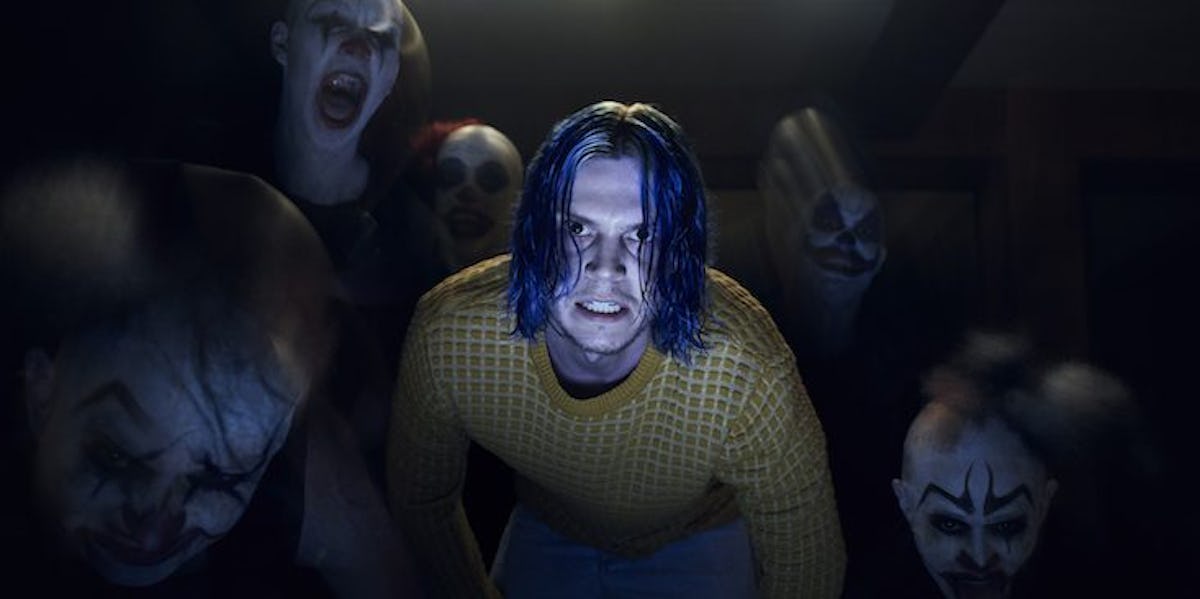 Evan Peters' 'AHS: Cult' Character Covers Himself In Cheetos To Mimic Trump & We're Screaming
FX
The first thing we learned about this season of American Horror Story way back before we even knew its subtitle and theme would be Cult, was that this season would have a political bent. Ryan Murphy revealed the new season would kick off on election night 2016, after Donald Trump was announced as President of the United States. In the premiere on Tuesday night, we finally saw just how the election will weave itself into the new season, and it seems to have a terrifying effect on Evan Peters' character of Kai Anderson. Spoiler alert: This post will discuss the events in the premiere episode of American Horror Story: Cult. In a moment of true twisted delight, Kai pours a bag of Cheetos into a blender, and smears the smushed, orange residue on his skin to emulate Trump after his win is announced. The AHS: Cult Cheeto moment was definitely the most social media-ready moment from the season premiere, and we still can't get over it.
I think it's safe to say that Evan Peters' creepy, unhinged Kai Anderson is the character most American Horror Story fans have questions about after the premiere. The premiere set him up as the antithesis to Sarah Paulson's Ally Mayfair-Richards — Ally is a Hillary supporter (actually, she voted for Jill Stein) plagued by phobias, who is brought to tears by the election results. On the opposite side, Kai celebrate Trump's win with incredible elation, and seems to be made fearless by the election. In his euphoria, Kai rubs Cheeto dust all over his face and practices a Trump impression in the mirror, he then runs into his sister Winter's room (who is mourning Hillary's loss) to rub the win in her face with his new Cheetos-sponsored makeover.
It's sure to be a season-defining moment for AHS: Cult, but the premiere episode did leave us wondering a lot of things about Kai and his motives. What exactly is he up to, and when does the cult aspect of the season come into play? We'll have to stay tuned to see if we get answers next week.