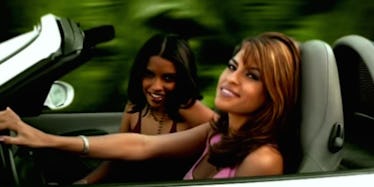 In Case You Forgot, Eva Mendes Was In Will Smith's 'Miami' Music Video
It's time to talk about Will Smith's legendary song, "Miami." I'm sure you remember the first time you listened to it in all of its glory. It was catchy AF and made you want to get to a beach party FAST. Take a moment and sing the chorus with me just to get in the mood:
Welcome to Miami, bienvenidos a Miami.
Great. You probably also remember the fun music video that came with it. However, there's one major detail you definitely forgot. Let me repaint the picture to help spark your memory.
The video opens with Will and his friends at a diner in Philadelphia. The crew gets transported to the beach through an image on a newspaper. Watch closely.
From the beach, we're taken to a private plane, where Will is asking us if we can feel that. Yeah, we can feel that. We can feel that a lot.
Will's having a great time. He's living it up in Miami and meeting people, like this random lady who wants to put glasses on him.
OK stay with me, this part is crucial. We then see Will and his buddies cruising around with the wind in their faces. The camera zooms in on his glasses and in their reflection we see two girls. DO YOU SEE THOSE GIRLS?
Eva, is that you? What are you doing in Miami?
EVA, KEEP YOUR EYES ON THE ROAD.
That was crazy, right? After cruisin' around, Will ends up doing his thing and having the night of his life. He shakes his booty in the club and sings for all the ladies. BUT WHERE DID EVA GO?
Eva, I have so many questions for you. Did you go to the clubs? Did you dance with Will? Did you get out of your car? Did you have a nice vacation?
Please get back to me because this is killing me inside. As for everyone else, I hope you enjoyed this short journey down memory lane. Will, please invite us next time. Thanks.
You can watch the full music video here to relive the magic and say "hi" to Eva: