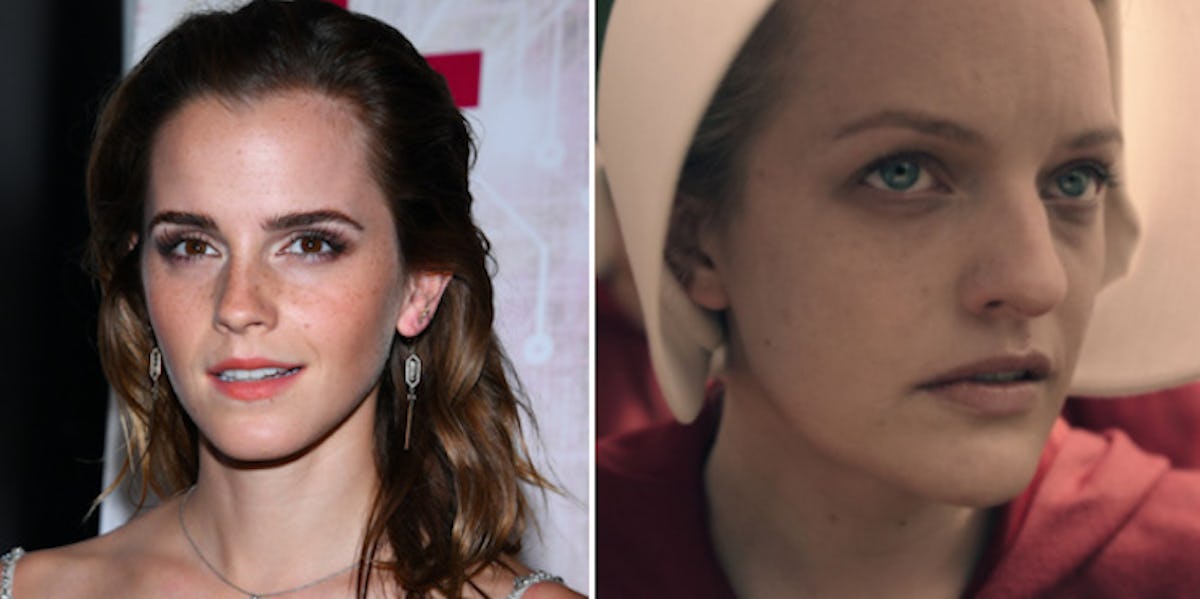 'The Handmaid's Tale' Creator Reveals Her Inspiration In Interview With Emma Watson
Pascal Le Segretain/Getty Images/Hulu
Anyone who loves to binge-watch TV will tell you that one of the most gripping and thrilling shows of the past year is Hulu's The Handmaid's Tale. Even though it's only been one season, THT is nominated for eight Emmy Awards, and already has us anxiously awaiting a second season.
Adapted from Margaret Atwood's 1984 novel of the same name, The Handmaid's Tale is set in a dystopian universe where women are subjugated and treated as objects to be possessed by the patriarchy rather than free individuals.
Recently, Emma Watson (yes, the Emma Watson) was able to speak with the novelist behind the story that has taken readers and binge-watchers by storm. Naturally, Watson had to ask how the dark society we see in the novel and on the show came to be. Atwood explained the three primary inspirations behind Gilead, explaining,
First, what right wing people were already saying in 1980. They were saying the kinds of things they're now doing, but at that time they didn't have the power to do them. I believe that people who say those kinds of things will do those things if and when they get power: They're not just funning around. So that was one of the inspirations. The second inspiration was historical. The 17th-century foundation of America was not, 'Let's have a democracy.' It was 'Let's have a theocracy,' which was what they established in the New England states, such as Massachusetts. Harvard­ — in and around which the novel is set — began as a theological seminary in the 17th century, and the Puritans excluded anybody who didn't believe in their theology. The third inspiration was simply my reading of speculative fiction and sci-fi, especially that of the '30s, '40s, and '50s, and my desire to give the form a try. Most of the ones I'd read had been written by men and had male protagonists, and I wanted to flip that and see what such a thing would look like if it were told from the point of view of a female narrator.
During her explanation, Atwood stopped to reveal some of the questions she asked herself while designing the troubling world of THT,
If you're going to make women go back into the home, how are you going to do that? If America were to become a totalitarian state, what would that state look like? What would its aims be? What sort of excuse would it use for its atrocities? Because they all have an excuse of some kind. It would not be Communism in the United States; it would have undoubtedly been some sort of religious ideology—which it now is.
Clearly, in order to create such a dark universe, Atwood had to have some terrifying inspiration and, of course, we love reading all about the behind-the-scenes creation of Gilead.
Watson and Atwood brought a lighter note to the interview, though, as they went on to talk about other adaptations of The Handmaid's Tale and Atwood's involvement in campaigning for environmental and women's issues. You can read the full interview on Entertainment Weekly.
Now all we have left to do is patiently await Season 2 of The Handmaid's Tale.