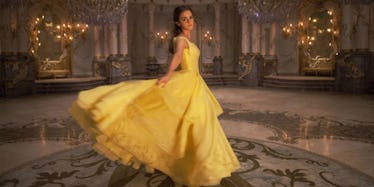 Emma Watson's 'Beauty And The Beast' Fashion Instagram Is Serious Style Inspo
REX/Shutterstock
Emma Watson has a new Instagram account, and it's related to "Beauty and the Beast" so get ready to press that "follow" button (unless you're a human who has been turned into a household appliance and don't have fingers).
The account, which is called The Press Tour, showcases her collaboration with Eco Age, a consultancy firm that aids designers looking to grow by offering sustainability.
While there's only a few posts on the account so far, the pictures that are up show off Emma's sustainable fashion choices (thanks to her stylist Sarah Slutsky) for the "Beauty and the Beast" press junket.
On the account, Emma wears outfits designed by Louis Vuitton, Oscar de la Renta and others.
Emma and Sarah actually collaborate with various fashion creative directors to see the outfit design from concept to completion, while the outfit's sustainability is confirmed by Eco Age.
So, if you're like another Disney character who only wears dresses and coats made out of Dalmation puppies, sorry, Cruella. This Instagram account is not for you.
Eco Age suggests wearing these outfits more than 30 times to ensure its sustainability. I wonder if the fact I've worn the same jeans every day for the past year makes me sustainable.
Here's another post from Emma's new account, and what's that I see? It looks like Belle got some roses.
In this post below, you can see how this outfit by Oscar de la Renta went from the early design phase to the final flawless product, which Emma wore for the "first ever public screening" of "Beauty and the Beast" (aside from the original animated version, of course).
While most of us can't be groupies on this press junket tour, we can at least live vicariously (and sustainably) through this Instagram account.
In the meantime, I'm finally going to wash my jeans. Let me get my Hazmat suit, just in case the jeans are too gross to touch with my hands (I have hands because I haven't been turned into a household appliance... yet).
Citations: Emma Watson Just Launched A New Instagram Account For The Best Reason (Refinery29)