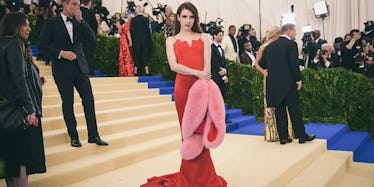 It Looks Like Emma Roberts Will Return For 'AHS: Cult' & We're Screaming
(Photo by J. Kempin/Getty Images)
We've got more news today about Ryan Murphy's ongoing anthology series American Horror Story, which is busy filming the seventh iteration for this coming fall TV season. While the show has kept most of the details on lock down, other than the title (AHS: Cult) and plot (the 2016 presidential election, really?), today it revealed at least one more actress is joining their ranks. According to a tweet of her on set, Emma Roberts has joined the American Horror Story: Cult cast.
Though Ryan Murphy promised when the title was revealed at San Diego Comic Con "it will all make sense," the idea of "cult" and "the 2016 presidential election" just seemed really hard to tie together. However, Murphy has promised that the election is just the kick-off moment and that the real horror is "there's something terrible that happens in the lives of our characters." With Emma Roberts as part of the cast, as well as Lena Dunham, maybe these are the women joining said cult?
Either that or they brought Emma Roberts on to participate as part of a cookery contest, that's happening outdoors, in the middle of November. I mean, why else would she be carrying a knife the size of her arm? Well, murder, maybe.
Fans have taken to Twitter to declare their delight at having Roberts back on the show. This will be her third turn with the series, having previously starred in Season 3's American Horror Story: Coven and Season 4's American Horror Story: Freak Show. In 2015, she left AHS to go star in Ryan Murphy's newest venture, Scream Queens, but that only lasted two seasons. Now it seems she's back on AHS.
Roberts joins previously announced cast members Sarah Paulson and Evan Peters (who have been in every iteration of AHS), as well as Billy Eichner, Frances Conroy, Leslie Grossman, Mare Winningham, Colton Haynes, Billie Lourd, and Lena Dunham.
American Horror Story: Cult premieres this coming fall, on Sept. 5, 2017, on FX.