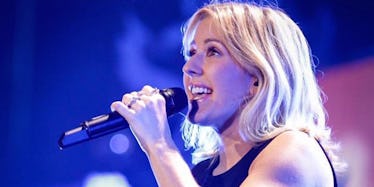 Ellie Goulding's Cover Of 'O Holy Night' Might Be The Best Version Ever (Video)
Getty Images
Stylish whisper-singer Ellie Goulding released a precious cover of "O Holy Night" perfect for slow-motion footage of your family members screaming at each other over the Christmas dinner table after your racist uncle mentions "those muslims."
Once Uncle Bill is four beers deep, roll tape and quietly praise Ellie for providing what she called "a *christmassy* thank you for all the beautiful support [she's] had this year" to accompany your holiday memories.
Let your sister stand on a $300 rustic dining room chair next to you and explain how Donald Trump is basically Hitler while Uncle Bill's glistening red ham of a face primes for his rebuttal.
Once you've captured enough of this hatred ballet for a viral-worthy montage, excuse yourself Irish-goodbye-style and get to editing Ellie's sweet melody over silent footage of your mother sleeping in her seat just as Uncle Bill's neck veins threaten to explode amid his Planned Parenthood tangent.
Ellie Goulding understands Christmas is a time for family.
Thanks, Ellie.
Citations: You Have to Hear Ellie Goulding's Gorgeous Cover of "O Holy Night" (Cosmopolitan)