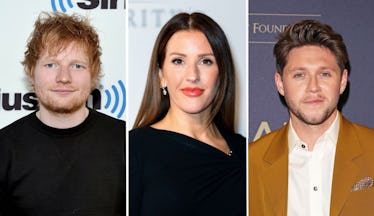 Ellie Denied Cheating On Ed With Niall (9 Years Later)
Ed's "Don't" lyrics beg to differ.
Max Mumby/Indigo/Getty Images Entertainment/Getty Images Jamie McCarthy/Getty Images Entertainment/Getty Images David M. Benett/Getty Images Entertainment/Getty Images
Back in 2014, Ed Sheeran released his song "Don't" — a catchy and accusatory song about someone cheating on him with a friend. In the nine years since the song's release, fans have pretty much unanimously agreed that Sheeran was singing about Ellie Goulding cheating on him with Niall Horan. The timing of their respective relationships added to the speculation: Goulding reportedly dated Horan after Sheeran (though she denied she and Sheeran were ever together... despite Sheeran saying the opposite). Over the years, the speculation transformed into fandom canon, partially because it went uncontested by the A-list names involved until now. In a comment on a Dec. 31 TikTok, Goulding denied the rumors once and for all.
A brief recap: In "Don't," Sheeran sings, "I never intended to be next (you bastard) / But you didn't need to take him to bed, that's all / And I never saw him as a threat (you bastard) / Until you disappeared with him to have sex, of course." He didn't outright say Horan and Goulding's names, but he did hint at the infidelity involving two singers. "It's not like we were both on tour / We were staying on the same f*cking hotel floor," he continued. One more damning piece of lyrical evidence: In the first verse, Sheeran guesses the mystery woman was "only looking for a lover to burn." (Goulding's hit song "Burn" was released in 2013, a year before "Don't.")
For nine (!) years, Goulding did not address the "Don't" speculation publicly, but she recently changed that. On Dec. 31, Goulding posted a TikTok video of herself dancing to Harry Styles. When a fan commented "can't believe u cheated on ed with niall but slay fr," she replied, per E!, "False!!!! But also slay." Are four words really enough to put an end to a near-decade of rumors? Probably not.
When "Don't" was released, Sheeran made it clear the angry lyrics were not an exaggeration. "The story in 'Don't' is 100% true. I could have gotten nastier — there was more sh*t that I didn't put in," he told Billboard in 2014. "I was seeing someone for a bit of time, and then they ended up physically involved with one of my friends in the same hotel that we were staying in, while I was downstairs."
After a year of fans speculating the song was about Goulding and Horan (and one UK outlet claiming that Sheeran confirmed the rumors), Sheeran was asked in 2015 if he regretted "letting [it] slip" who the song was about. "I never let it slip. What happened was one of the newspapers in England just printed that it was confirmed when it never was. We got in touch, and they took the story down," he told Entertainment Weekly. "But obviously the damage had already been done by that point because every other newspaper picked up on it." (That's certainly not a denial.)
This isn't the first time Goulding and Sheeran have disagreed on what went down between them — lest we forget he thinks they dated and she doesn't — but hopefully, after nine years, this is the end of it.