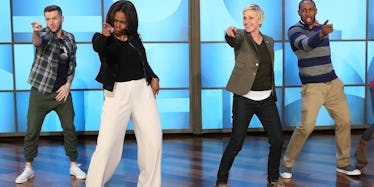 Michelle Obama And Ellen DeGeneres Break It Down, And It's Epic (Video)
You may not love the Obamas' politics -- but, in terms of character, it's hard to say they don't make up the coolest presidential duo in recent history.
Case in point: Mamma Obama (aka first lady Michelle) recently stopped by "The Ellen Show" to celebrate the five-year anniversary of her "Let's Move" campaign to end childhood obesity.
The first lady revealed that as part of the campaign's #GimmeFive initiative, the White House will host a dance performance to Bruno Mars and Mark Ronson's "Uptown Funk" during this year's Easter egg party.
Then, she challenged the talk show host to participate.
What happened next can only be described as the most epic dance party ever.
See for yourself (the dancing starts around the 3:50 mark) up top.
Citations: Ellen DeGeneres and Michelle Obama Have an Uptown Funk Dance Off And They Shut It Down (Buzzfeed)