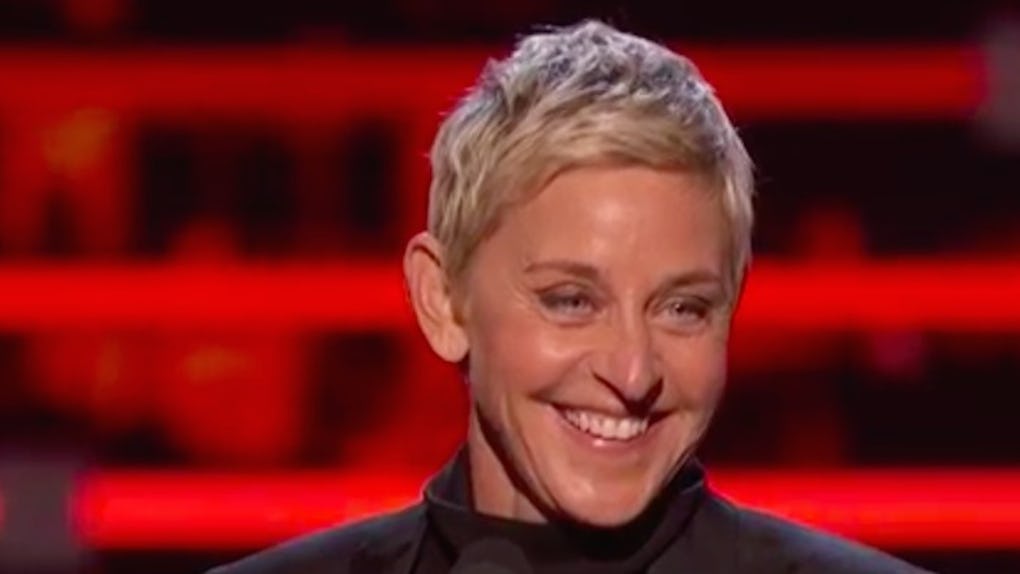 Twitter
Ellen DeGeneres Takes Home The Award For Best Human Of All Time (Video)
Ellen DeGeneres took home her 17th People's Choice Award Wednesday, which included the much-deserved awards for Favorite Humanitarian and Favorite Daytime TV Host.
And, in true Ellen fashion, she made people around the world giggle all the way through her three-minute acceptance speech.
A pretty-in-pink Melissa McCarthy took the honor of introducing her friend with kind words, which Ellen sarcastically criticized in the opening line of her speech, joking,
What wonderful things you said. You forgot gorgeous, but that's okay.
Those wonderful things included mention of Ellen's philanthropic efforts, outside of the obvious generous giveaways she features in every episode of her self-named talk show.
Ellen's charitable mark on the world extends beyond the studio where she fancies cutting a rug, to raising awareness of domestic violence survivors, abused animals and natural disaster victims, as well as raising millions in funding for various organizations.
One of those organizations is St. Jude's Children's Hospital, to which Walgreen's dedicated $100,000 in Ellen's honor.
Ellen just wants to see people being good to other people, aka more like her, and that's the exact message she left with viewers, saying,
This is crazy, I mean, so, so deserved, but this is crazy. I can't tell you how much this means to me. When I started my show, I set out really to make people happy and make people laugh and to get very, very rich and I certainly didn't set out to win any of the many, many, many awards I've received over the past years. But I have to say, it feels a little strange to accept an award for being nice and generous and kind, which is what we're all supposed to do as humans.
Not to mention, the shirtless photo of Chris Hemsworth fresh out of the ocean was the best closing to any speech in the history of speeches.
This woman is a shining example of the A-plus human each and every one of us should aspire to be. Thanks, Ellen, for being you!
Watch Ellen's full speech at the 2016 PCAs above.
Citations: USA Today