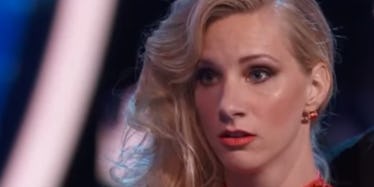 'DWTS' Contestant Who Got Perfect Score Was Eliminated And Twitter's Pissed
ABC
Not since Jennifer Hudson left "American Idol" in seventh place has a reality show elimination felt more obviously wrong.
On Monday night's episode of "Dancing with the Stars," Heather Morris and her partner Maksim Chmerkovskiy were somehow eliminated after landing the first perfect score of the season.
Yup — Heather and Maks blew the judges away with a super-sexy rumba to TLC's "Waterfalls," earning them 10s across the board for the first time this whole season, and then got sent home right afterward due to a lack of votes.
Of course, everyone is pissed about this travesty.
When "DWTS" host Tom Bergeron announced Heather and Maks were being sent home, the crowd erupted in boos. Tom called it "the most vocally unhappy reaction they've gotten" in the 24 seasons of the show, as you can see in the video below.
And it wasn't only the people in the audience who were angry at Heather and Maks' elimination right after achieving a perfect score. Twitter immediately exploded with "DWTS" fans sharing their disbelief and anger over the elimination that definitely should not have happened.
Among the angry tweets, fans pointed out that although Heather Morris got a perfect score, she still got axed instead of her male competitors, who all wound up getting the lowest scores of the week.
The lowest score of all went to "Bachelor" star Nick Viall, who only scored straight 7s from the judges for his jive. But of course, the vote is up to America, and since Nick is obviously still hugely in the public eye after his season of fellow ABC reality hit "The Bachelor" just ended, more people picked up the phone for him than for Heather. Maybe they just assumed Heather would be safe?
Thankfully, Heather herself doesn't seem too upset about the shocking elimination. She appeared on "Good Morning America" on Tuesday and said she knew to expect the unexpected and she was grateful for her time on the show.
The elimination was also really surprising since I think most people assumed Heather Morris was going to be a promising contender at winning the entire season. Having worked professionally as a backup dancer for Beyoncé and formerly appearing on "So You Think You Can Dance," Heather has definitely had the most dance experience of any of the stars to have appeared on the series.
But despite slaying her routine, I guess she just didn't excite America enough to actually call in and vote for her to stay. You can check out her perfect-10 performance that somehow ended in her elimination below.