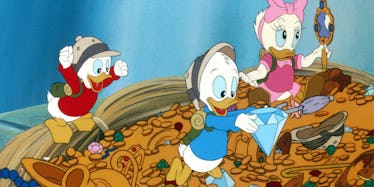 Holy Sh*t! 'DuckTales' Will Be Making A Glorious Comeback In 2017
DuckTales Treasures Of The Lost Lamp/Disney
Scrooge McDuck and the gang are making their way back to TV.
Disney announced Huey, Dewey, Louie and Donald will all be part of a new "DuckTales" series on DisneyXD.
In a statement, Marc Buhaj, senior vice president of programming and the general manager of Disney XD, said,
'DuckTales' has a special place in Disney's TV animation history, it drew its inspiration from Disney Legend Carl Barks' comic books and through its storytelling and artistic showmanship, set an enduring standard for animated entertainment that connects with both kids and adults. Our new series will bring that same energy and adventurous spirit to a new generation.
The original version of "DuckTales" aired 100 episodes between 1987 and 1990. This new reboot will be seen on TV in 2017.
There's really only one way to react to this news:
Citations: DuckTales Is Coming Back (E Online)