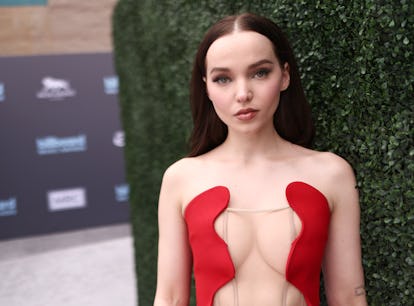 Dove Cameron Had "Imposter Syndrome" As A Disney Star
Her quotes are so relatable.
Matt Winkelmeyer/Getty Images Entertainment/Getty Images
As Dove Cameron recently told the Los Angeles Times, she didn't think her Disney days reflected the experience Miley Cyrus had. Or Selena Gomez. Or Zendaya. Or, frankly, any of the other women who got their start on Disney Channel.
"I never looked at Miley [Cyrus] or Demi [Lovato] or Selena [Gomez] or Zendaya or Bella [Thorne] or anybody — Hilary Duff or anybody that came before me — I never looked at them and thought, 'you and me — same,'" Dove said in a June 24 interview with the magazine.
Her comments came as a surprise since Dove rose as a household name on the TV network like the artists she mentioned. She starred in the hit series Liv and Maddie and the Descendants film franchise; however, the actor said she's never felt like a "Disney girl."
Dove's comments didn't come completely out of the blue. She spoke to the LA Times while promoting her new song, "Breakfast." It's the follow-up to her viral hit track, "Boyfriend." The song, which dropped in February, went viral on TikTok and peaked at No. 16 on the Billboard Hot 100 earlier this month. It marked Dove's first song outside of the Descendants franchise to land on the chart.
For anyone thinking that Dove actually continued on a very classic Disney path from TV star to pop star, she didn't seem to think so and told the LA Times she felt like "the strange outlier who doesn't belong and who will never fit in" while starring on the Disney Channel.
"I had huge impostor syndrome," she said, noting she constantly felt like she was "wearing a rubber mask." Dove noted that her Disney Channel show Live and Maddie had her starring opposite herself in the two lead roles, which she called "an isolating journey."
This evidently didn't allow her to connect with her fellow Disney Stars the way Zendaya and Bella Thorne did while co-starring on Shake It Up! or the way Cyrus, Lovato, and Gomez did when their individual hit shows aired at the same time. "I think the Miley/Selena/Demi trifecta, they met because they were all there at the same time," she told the LA Times. "I'm imagining they were all on the lot together."
However, Dove did say there was another reason she felt removed from the traditional Disney Channel experience. "Also — and I cannot stress this enough — my life has always been personal stuff first and career stuff, like, fourth," she said.
Despite how she felt about her Disney experience, Dove has come away with a huge amount of success. In addition to starring in the critically acclaimed Apple TV+ show, Schmigadoon!, Dove found success as a pop star. "Boyfriend," which is a brooding song about LGBTQ+ yearning, is an aesthetic departure for the actress, who identifies as queer.
Though Cyrus also famously went from bubblegum pop to club-ready music, Dove told the LA Times she never looked to her Disney predecessors for guidance. "I don't really look to anybody else for a roadmap," she said. "I mean, this whole narrative that I was on Disney and then found my way out with a pop song, it was a total f*cking accident."
This wasn't the first time she spoke about the unexpected success of "Boyfriend." In a March 31 interview with Billboard, Dove said the song will appear on her upcoming debut EP, though she initially didn't think it would end up on the EP as she came up with the concept by accident.
"In the middle of recounting this insane story, I think I casually said something to the room like, 'F*ck, I could be a better boyfriend than this guy.' And we were all kinda like, 'wait, is this a good hook?'" she said, adding that the song became a reflection of "what it felt like to grow up queer" and be surrounded by "women who were famously mistreated and under-celebrated."
Having found a successful singing and acting career, it's glad to see Dove has found her post-Disney Channel footing.