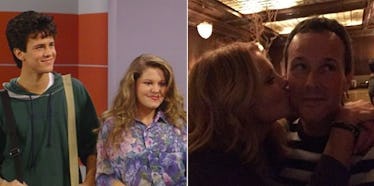 DJ Tanner And Steve Finally Reunite In Adorable 'Fuller House' Photo
Wow, dreams really do come true.
DJ and Steve made up one of the all-time greatest TV couples in history. Their romance added so much depth to "Full House" and made it an even more enjoyable show to watch.
We pretty much third-wheeled every one of their adorable interactions.
Ugh, how precious.
Well, in honor of "Fuller House" coming to Netflix in 2016, Scott Weinger (Steve) and Candace Cameron Bure (DJ) posted an adorable selfie together.
Weinger captioned the photo,
Sorry, Internet. #fullerhouse @candacecbure #iloveyoudj
IS YOUR HEART BURSTING OUT OF YOUR CHEST RIGHT NOW OR WHAT?
In "Fuller House," DJ will be a single mom living with her three kids who gets help from her sister Stephanie and her best friend, Kimmy Gibbler.
Is this photo a sign maybe -- JUST MAYBE -- Steve, her first love, could be in the picture? I can't wait to find out.
Citations: D.J. and Steve Together Again! Candace Cameron Bure and Scott Weinger Reunite in Cutest Fuller House Pic (E!)