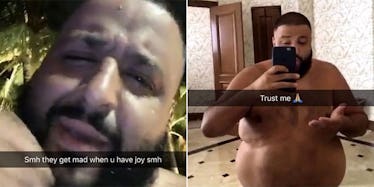 If You're Not Following DJ Khaled On Snapchat Already, You're Buggin'
Snapchat
Not a lot of people could handle the success the way DJ Khaled can.
But if you wondering exactly WTF he does in the first place, just know every blessing must be accounted for, and dealing with haters is a full-time job. With that said, he's a VERY busy man.
As one of the greatest forward thinkers of our generation, he also has the ability to think backward.
His Snapchat stories are testaments to his hard work, all of his blessings and a reminder his haters will never be on his level.
Not everyone sees the hard work Khaled puts in every day...
DJ Khaled's snapchat gets me through my day pic.twitter.com/S1vczY10zC — Mario (@MarioPages) November 23, 2015
...or what it's like to be on your grind when no one's watching.
The haters are just evil and don't want to see him happy.
But why would they try to go and take this man's joy?
Probably because they don't have the heart...
...or as much fresh produce.
This man is a walking emoji.
adding @djkhaled on snapchat was the best decision i've ever made pic.twitter.com/C02KoHxY6A — Kev. (@Dreamville_K) November 21, 2015
The behind the scenes is really like a movie.
We get to see the lighter side of Khaled, too.
Follow DJ Khaled on snapchat you won't regret it pic.twitter.com/f60rkvUAi9 — محمد Mohamed (@TheRealSahraoui) November 21, 2015
Who else is going to keep it this real with you?
DJ Khaled's snapchat stories about his plants are gold pic.twitter.com/Uqthq5EoPq — Doug (@erin_mcmermaid) November 18, 2015
There's some truly valuable advice on here we should all be listening to.
DJ Khaled's snapchat is a gold mine pic.twitter.com/1qRLABsVNx — Cash The CEO (@NextEscobar) November 30, 2015
Like how to get ladies based off the way you smell...
DJ Khaled on cocoa butter. pic.twitter.com/7HW497mbOe — KYLE (@KyleEdwards) November 29, 2015
...and how to get your shorty to rub your head on the daily.
That means you haircut better be on point.
In awe of DJ Khaled's snapchat today. Why his barber got a torchlight tho? pic.twitter.com/AP26XvMK6o — Carl Anka (@Ankaman616) November 30, 2015
Another key to success is keeping real clean.
After that, you can pretty much do anything you put your mind to!
Having that many haters just elevates you...
...into a class where it's only DJ Khaled and Future.
Who could hate on someone like this?
This is still a man who gives back to the less fortunate.
And his blessings are everyone's blessings.
If you're still not convinced DJ Khaled should be our next president, peep the video below. #Khaled2020.
Who's going to say no to a leader like this?