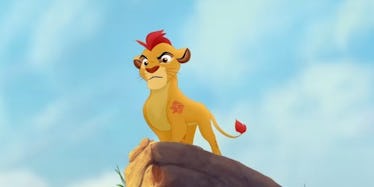 Disney Is Actually Making A 'Lion King' TV Series Based On Simba's Son
As one of Disney's most iconic stories, "The Lion King" has enjoyed its fair share of remakes and reprisals over the years, including sequels, theater adaptations and even a short-lived TV cartoon.
But next year, the critters of "The Lion King" are coming back — and this time, it's set to be better than ever.
Disney spent the past four years perfecting "The Lion Guard: Return of the Roar," a made-for-television film, and a cartoon series -- both based on the beloved 1994 film.
The film is set to debut in November and the TV series in early 2016, but both will star Kion, Simba's second-born son, and his pack of brave pals who together make up "The Lion Guard."
Viewers will watch as the critters try to protect their habitat by working together and fighting external threats.
Nancy Kanter, the executive vice president of programming and general manager at Disney Junior Worldwide, spoke about the upcoming series in an interview with Variety.
She told the magazine,
We were really trying to make sure, from a production value, that we could get as close to the feel of the movie as we possibly can. I think people will be amazed at just how beautiful it really looks. Some of the artists on the series have in fact worked on the original movies…
We've gotten very positive responses. People are curious to see what we will keep from the original story and what will be new. I'm really confident that even the Disney die-hards are going to be fans.
James Earl Jones, the voice of Mufasa, and Ernie Sabella, the voice of Pumbaa, will return for the series, along with newcomers Rob Lowe (Simba), Gabrielle Union (Nala) and Max Charles (Kion).
The film and subsequent TV series do not have exact release dates as of yet, so stay tuned for updates.
Citations: Disney to revive Lion King with Lion Guard TV series (Variety)