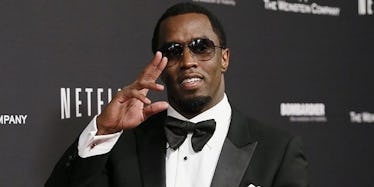 Diddy Is Being Sued For 'Reverse Racism,' And It's As Ridiculous As It Sounds
REUTERS
The headlines are worth scratching your head over: "Five white men are suing Diddy, for discriminating against white men."
Um, ok.
Dig a little deeper, get to the specifics and the story still seems a little odd.
It seems five white men are suing Sean "Diddy" Combs' media company, Revolt, alleging they were discriminated against for not being young, black men.
That news was reported on Tuesday by the New York Post, which says it obtained a copy of the lawsuit, which apparently was filed at the Manhattan Supreme Court.
The men say they were fired while working for the TV version of Power 105.1's morning show, "The Breakfast Club."
Obviously, discrimination at the workplace is wrong; there's no debating that. Plus, it remains to be scene how the actual lawsuit plays out.
That being said, it's fair to say this looks as ridiculous as any instance of "reverse racism" sounds.
Mind you, the lawsuit doesn't actually use those words, at least not according to the New York Post's report. But because the topic of this lawsuit is being discussed as an accusation of reverse racism, we should point out a few things.
Reverse racisms is a myth.
As PBS' Mychal Denzel Smith noted,
'Reverse racism' only makes sense through the erasure of the power dynamics of racism, which has been accomplished through the teaching of racism as a strictly interpersonal issue of hatred and intolerance.
In other words, reverse racism only makes sense if you're delusional about how actual, pervasive, systemic racism works. "Reverse racism" is essentially used the way the president talks about "fake news."
It's seldom actually what it purports itself to be.
Now that we're past that, we can just treat this as an accusation of bias or discrimination. But even then, the lawsuit just seems so strange.
First off, the suit alleges that Revolt TV treated them "worse than other employees who were younger and African-American," an idea which will sound foreign to any employee who's actually younger and African-American.
Secondly, the suit supports its claims that black employees were favored over the white, more experienced, producers by accusing executive producer Anthony Boreland of saying "Caucasians harbored racism against African-Americans," which is unimpressive, at best.
Speaking of unimpressive, here's another doozy: One manager was accused of responding to a producer's complaint of show guests being late by saying, "he [the producer] just did not understand the 'culture' of the show's guests and on-air personalities."
There are more quotes of course, but none come anywhere close to being damning. Now add in the fact that Revolt released this statement, saying,
These claims are without merit and have previously been dismissed by the EEOC. Revolt Media and TV, LLC has always been committed to diversity in the workplace and is an equal opportunity employer.
By EEOC, the company means the US Equal Employment Opportunity Commission, the body which aims to protect employees from the type of discrimination the suit alleges.
Now, to be fair, there haven't been any reports that confirmed whether the EEOC formally took a stance on the plaintiff's complaints.
On the other hand, Revolt has been able to give its side of the story on the reasons why the five producers were let go. Both of those fact could change how we look at Diddy and his company in this matter.
As of right now, though, the lawsuit seems frivolous and flimsy. In other words, it seems just as a ridiculous as any accusation that pretends "reverse racism" is a thing.
Surprise, surprise.