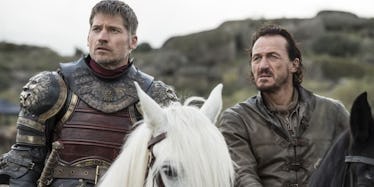 Did A Major Character Just Die On 'GOT'? We Need To Talk About That Ending
HBO
This post contains spoilers from Game Of Thrones Season 7, Episode 4. This week's episode of Game of Thrones was oddly advertised as the shortest episode ever in the pantheon, leaving fans very confused. All the episodes so far this season have been extra long. With only nine episode left in total after tonight, why so short? Turns out because this week wanted to leave us with a huge cliffhanger: Is Jaime Lannister dead after that remarkable battle between Dany's forces and the Lannister army?
There are many reasons that Game of Thrones is popular, from the political angles, to the fan theory aspects, to the fantasy parable that allows us to feel superior to an undemocratic way of life. But one of the reasons the show stands head and shoulders above the rest is their work in bringing big screen-style battle scenes to our televisions. They have broken records for stunt work throughout the years and broken molds in their attempts to stage medieval style warfare for us on screen.
Last year's "Battle of the Bastards," for instance, was a remarkable set piece, not only for the staging of the battle itself, but for the non-staging of it as well. By the time they got halfway through filming, they realized they did not have the time or budget to do the battle as written and so the entire back half was improvised.
This week's battle stuck to the script, but boy howdy. What. A. Script. Here, rather than our usual spoiler alert, let's have Robert Baratheon instead explain how screwed the Lannisters were the moment Bronn heard those hoofbeats.
Forty thousand Dothraki screamers in the middle of an open field? Check. Looting, burning? Check. (Sorry about your gold, Bronn.)
Dragons that Robert Baratheon didn't foresee? Oh baby, check and mate.
Oh, and how about that anti-aircraft dragon weapon that Jaime just so happened to be traveling with, that Bronn broke out when the going got tough? Now, to be fair, Bronn got a great shot in, hitting Drogon right in the shoulder between body and wing. Tyrion looked ill as Drogon and Dany were tossed about mid-air by the force of the impact. But killing dragons is a tough business, and Bronn only wounded Drogon. As for that weapon?
Toasty.
It did bring the dragon down to earth though, and as we've learned in our study of dragon-based warfare, the time that these animals are the most vulnerable to a human attack is when they're grounded. Drogon was lucky. Most of the Lannister forces were either taken out by Dothraki or cinders tossed in the wind by the time he and Dany were forced to land.
But Jaime was still upright, and in a saddle and ready to ride in a kamikaze-style final ride towards the Mother of Dragons and her steed, armed with nothing but a spear.
It was sheer desperation on his part. The gold from Highgarden was riding at the front of that train and may not have made it home. Cersei was going to freak out hard that he'd lost this battle, and that's not even with him giving her Olenna's parting words from last week.
In that state of mind, wouldn't you? It speaks to how well Tyrion knows his brother that even before Jaime picked up that spear, he was whispering, "Flee, you idiot."
And then out of nowhere, Bronn flew in and grabbed him, and the two fell into the water.
Is Jaime Lannister dead? Will Tyrion help pull his bother out of the water? Will Bronn  save his golden-plated ass, just so he can get that castle? At least now we know why this episode was so short: to leave us wondering for the next week if Cersei's better half survived.